Rhein Fire

Team 2000
Once again Rhein Fire was able to win the World Bowl at Frankfurt Galaxy under head coach Galen Hall and this time the Titan`s Ex-coach Bart Andrus had helped to move the team from a running pack (Clark + Bynum) into a fine receiver force, which was so well coached by former Vikings receiver Mike Jones, that Jeff Ogden could land a job at the Miami Dolphins.
Nevertheless, RB Pepe Pearson had been the man, who had secured the World Bowl win with his amazing TD while defender Nick Ferguson was getting ready for a long career at multiple NFL teams.
Enjoy video interviews from the last winning Fire squad featuring: Ken Ogle, Marques Douglas, Kevin Drake, Danny Wuerffel, the four Dallas Cowboys Chris Brymer, Chris Akins, Jeff Ogden, Ryan Neufeld in addition to the two Super Bowl winning safeties Anthony Mitchell and Chris Akins.
Adams | Brown | Akins | Baisley | Burgsmueller | Brymer | Carter | Clark | Collins | Doghmi | Douglas | Drake | Early | Fisher | Ferguson | Fitzpatrick | Ham | Hart | Heimburger | Hickl | Johnson | Kight | Lano | Lyck | Lytle | Mallard | Mitchell | Neufeld | Ogden | Ogle | Ojo | Pearce | Pearson | Powell | Renfro | Williams | Wuerffel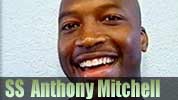 Anthony Mitchell had a phase of a lifetime when he first took the World Bowl and then the Super Bowl with the mighty Baltimore Ravens.
Video interview, photos and story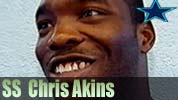 Chris Akins has also addded a Super Bowl to his World Bowl win after he had found his way to the New England Patriots.
Video interview, photos and story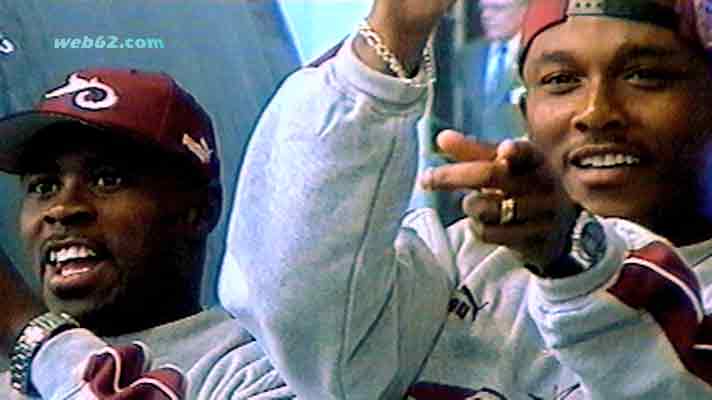 RB Pepe Pearson
Running back Pepe Pearson had been the man of the year after his World Bowl winning touchdown against the Scottish Claymores.
That way Pepe Pearson has become a part of the long Rhein Fire RB tradition, which had started with Derrick Clark and Kenny Bynum, followed by Autry Denson, Jamal Robertson, Tony Tailor, Joe Smith and finally the one and only Fred Jackson.
The TD
Video
Rhein Fire Players 2000
RB Ontiwaun Carter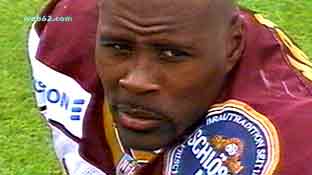 Ontiwaun Carter had played from 1996 until the World Bowl winning season 2000 for the Rhein Fire.
Born on November 16 in 1970
College: Notre Dame
Height: 5-9
Weight: 185
G Pete Swanson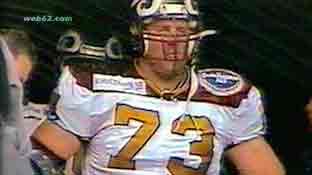 Guard Pete Swanson had been with the Kansas City Chiefs in 1998 before he joined the Fire for winning the World Bowl, what had earned him a spot at the St. Louis Rams 2000 where he had been on 3 games.
Born on March 26 1974 in Hollister, CA
College: Stanford
Height: 6-5
Weight: 307
CB Derrick Gardner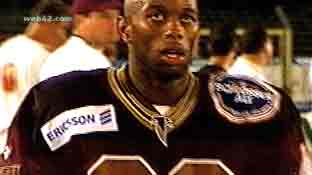 Cornerback Derrick Gardner came from the Atlanta Falcons, where he had been on seven games during the 1999 NFL season before he went for to Europe, where he had shown a fine interception against the Admirals in week 2 at the 1 yard line. And in 2001 he came back for a second season.
Born on March 10, 1977 in Oakland, CA
College: California
Height: 6-0
Weight: 185
G Ben Nichols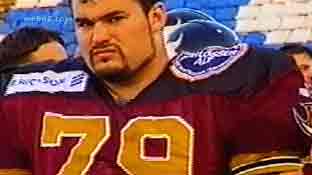 Guard Ben Nichols had not been able to catch an NFL roster spot after his winning NFL Europe campaign though he had been in talks with the Oakland Raiders.
Born on June 28 in 1971
Height: 6-5
Weight: 310

Dan Collins Cowboys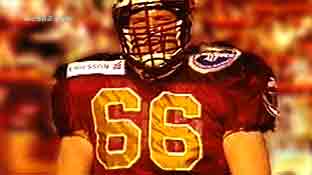 Dallas Cowboys' Dan Collins had been with Rhein Fire 2002 before he was added to their roster.
After the World Bowl win in season 2000 Dan Collins had signed with Galen Hall at Orlando Rage.
Born on July 27, 1976 in Raynham, MA
College: Boston College
Height: 6-4
Weight: 300

LB Vincent Bradford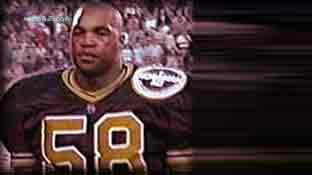 Linebacker Vince Bradford had spent one season at the 49ers before he was called in late by the Rhein Fire to replace the suspended Scott Whittacker.
Born on January 22 in 1973
College: Arkansas
Height: 6-2
Weight: 231
DT Ken Anderson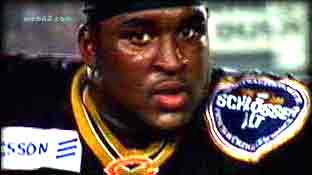 Tackle Ken Anderson was sent out by the Chicago Bears and after the World Bowl win had he signed at Orlando Rage following his head coach Galen Hall into the XFL.
Born on September 23 in 1973
College: Georgia Tech
Height: 6-3
Weight: 310
S Matt Hickl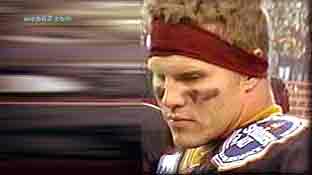 Safety Matt Hickl had shown a huge block together with Dallas Cowboy Chris Akins and a 83 yards TD, which had decided the Derby against Frankfurt Galaxy. Before at college he had made 7.000 happy, but at Fire he made 30.000 out of a 43.000 crowd rave.
Unfortunately a spinal injury had ended his NFL career.
Born on September 26 in 1975
College: Texas A&M
Height: 6-1
Weight: 188