Jamal Robertson

from Fire to the 49ers
Jamal Robertson had emerged as the Rhein Fire 2002 top gun with the assistance of offense coordinator Mike Jones, what had earned him enough skills to play at the 49ers for three NFL seasons, during which he had played in 22 games for 207 yards and one TD.
After that he had played for the Carolina Panthers and the Atlanta Falcons mainly as a kick off returner before he had moved up to Canada.
At Rhein Fire the fans love to remember his tremendous 90 yards NFL Europe record run for a touchdown against the Frankfurt Galaxy.
Back in the NFL Europe Jamal Robertson had scored 8 touchdowns and 792 yards with his 151 attempts what made him the best rusher in 2002.
In addition he had shown 14 catches for 137 yards.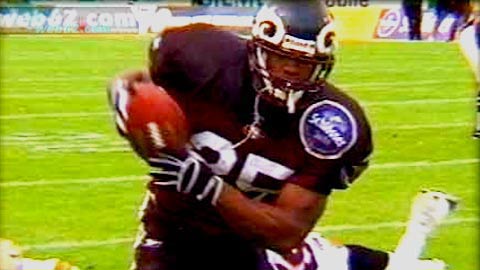 RB Jamal Robertson
Jamal Robertson 2002 videos
Jamal Robertson interview
Video
Live on stage
Video
"If I could change the World"
Video
Jamal Robertson @ Fire vs. Frankfurt Galaxy
Video
Jamal Robertson @ Fire vs. Amsterdam Admirals
Video
Jamal Robertson @ Fire vs. Scottish Claymores
Video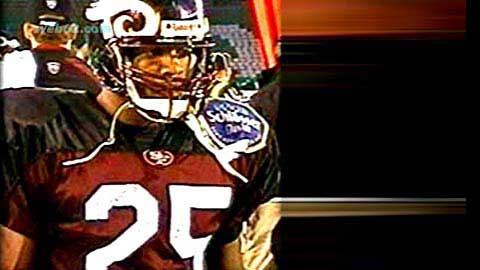 RB Jamal Robertson
Born in Washington DC on January 10 in 1977
College: Ohio Northern
Height: 5-10
Weight: 205