Pig in the Year of the Monkey
At times the 2015 year of the Goat had been terrific for many, who are born in a year of the Pig but since February 8 the Year of the Monkey is changing the game to a more funky and dynamic one. And here is the general outlook on the 2016 / 2017 for all Chinese Zodiac symbols.
Pigs
in the limelight
Hillary Clint remains on track in the race for the White House though she is getting accused of her assistant "Dragon" Huma Abedin, who is married to "Dragpn" Anthony Weiner.
Justin Trudeau has taken over Canada and will Hillary Clinton achieve same glories in the US just like Ronald Reagon did it in the last year of the Monkey?
Manager Unai Emery won his third consecutive UEFA Cup with Sevilla.
Wide receiver Larry Fitzgerald had been the game MVP, who had pulled his Cardinals into the last 4 teams of the NFL playoffs.
Marco Rubio wants to lead the Republicans into the next presidential election while Mauricio Macri has taken over the presidency in Argentina.
Justin Trudeau is following Stephen Harper as prime minister of Canada and Hillary Clinton is more than likely to take over the U.S. thanks to massive endorsement by her "Dog" Bill, who represents America's most beloved Chinese Zodiac symbol.
Chinese Horoscope for Pigs in the 2016 Monkey Year
In the last year of the Monkey in 2004 many Pig year born stars were having a splendid time when Lance Armstrong and Vitali Klitschko were dominating two sports as well as Arnold Schwarzenegger and Hillary Clinton were having a political ball.
So most obviously Hillary Clinton has some very good chances to become the first female American president of all times with a home run against "Dog" Trump.
Overall, the reigning Monkey and the Pig year born are a good match and they can entertain each other very well.
And that's why there will be plenty of good Karma arriving at the Pig year born doorsteps and they are gifted enough with their fairly relaxed and smart attitude to capitalize on that.
A fun year is lined up and it will only require to stay calm and coast for being brave enough for some very big jumps.
Clumsy and anxious Pigs are likely to miss out on their opportunities while those, who give a damn' will end up with the winners.

The Pig Symbol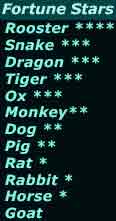 ... the life of a pig .... Cool and lucky
Pigs are the true champions in quick anticipation, fast learning and also relaxation, what does qualify them even for relationships with Tigers.
"Hài" is the Chinese word for Pig and they are believed to be honest what is "zhu".
So no surprise, that Eric Snowden, Julian Asssange and Vitali Klitschko weren't afraid to put their livelyhoods at risk in order to stand up for what they believe to be the right thing.