Derrick Clark

Denver Broncos
During his four seasons "Showtime" Derrick Clark had become the most popular Rhein Fire player of all times.
In 1998 he had produced 889 Yards and 6 touchdowns, which took Rhein Fire to the first World Bowl win at Frankfurt Galaxy.
He also became the all time top scorer of the NFL Europe in the same year.
In 1999 Derrick Clark and his team had dusted the Admirals twice and scored the highest win in NFL history in Barcelona against no one less, than Todd Bouman, Lawrence Phillips, Brandon Noble, Mike Maslowski and several other outstanding NFL starters.
By the end of the 99 season Brandon Noble from the Dallas Cowboys had admitted in a video interview that Derrick Clark and Kenny Bynum had played them silly as a 1-2 punch running back duo.
Derrick Clark's room mate running back Kenny Bynum was described by Brandon Noble as a "slash`dash kind of running back" and as almost "unreal".
Also the big qb hope Dameyune Craig and his Claymores got severly grounded but Rhein Fire still couldn`t qualify for the World Bowl though they had played extremely well.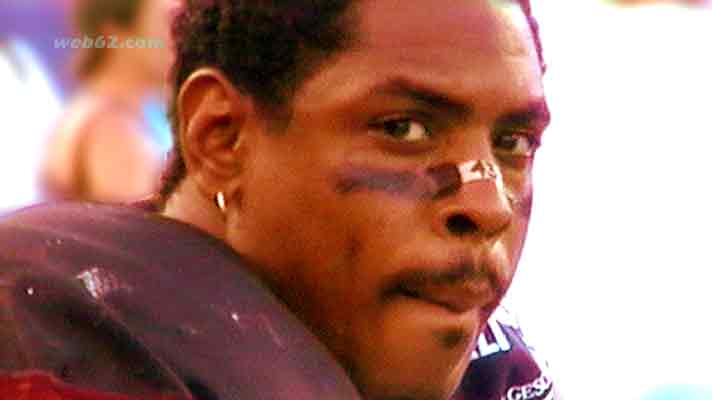 RB Derrick Clark
Born on April 5 in 1971
College: Evangel College
Height 6-1
Weight 245
Derrick Clark videos
Interview 1999
Video
Interview 2000
Video
Derrick Clark 1999 vs. Amsterdam Admirals
Video
Derrick Clark 1999 vs. Berlin Thunder
Video
Derrick Clark 1999 vs. Barcelona Dragons
Video
Derrick Clark 1999 vs. Frankfurt Galaxy
Video
Derrick Clark 1999 vs. Scottish Claymores
Video

RB Derrick Clark