Joe Smith

RB Titans
During the Fire 2005 season Joe Smith had become the best running back that the team had ever seen after he had even broken the 1000 yards+ record of Kenny Bynum from season 1999.
Joe Smith is also an outstanding character who had loved to play his guitar and sing near the river for people walking by.
In week 10 against the Amsterdam Admirals Rhein Fire RB Joe Smith had crossed the 1.000 yards barrier with 10 games.
The last time it had been Lawrence Phillips for the Barcelona Dragons back in 1999 when also Rhein Fire`s Kenny Bynum had been outstanding.
Who would believe, that Joe Smith had been sitting on the river Rhine banks while playing his guitar just like any regular guy.
He also had enjoyed public transports and getting down to real life.
Difficult for the Titans to decide between too such outstanding characters and backs such as Jarrett Payton and Joe Smith.
In week 4 he had earned a special price at Rhein Fire while overall Joe Smith had emerged as the main attraction with also some incredible 152 yards and 1 touchdown against Frankfurt Galaxy a week later.
Back at the Titans injury problems had prevented him from being competitive against Jarrett Payton who had finally caught the the roster spot.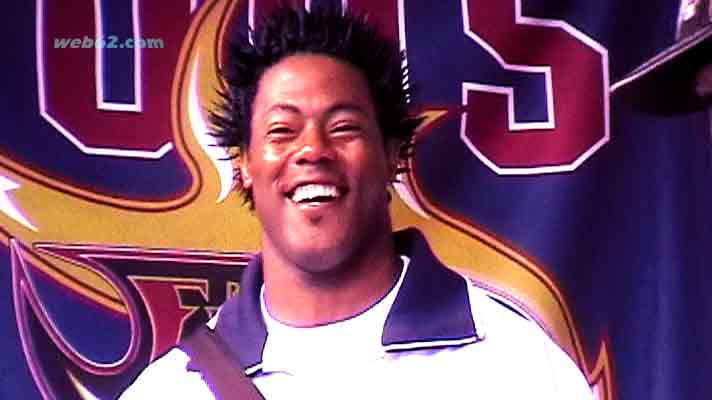 Joe Smith Titans
In Duesseldorf Joe Smith had been the best player though overall, the rest of the team wasn`t that brilliant.
Easy to imagine a much higher score in case of a better support for the speedy running back, who had shown the same caliber as a Kenny Bynum, Jamel Robertson and other well performing Rhein Fire backs.
Joe Smith 2005 videos
@ Fire vs. Amsterdam Admirals
Video with interview
@ Fire vs. Berlin Thunder
Video 1 | Video 2
@ Fire vs. Cologne Centurions
Video 1 | Video 2
@ Fire vs. Frankfurt Galaxy
Video 1 | Video 2
@ Fire vs. Sea Devils
Video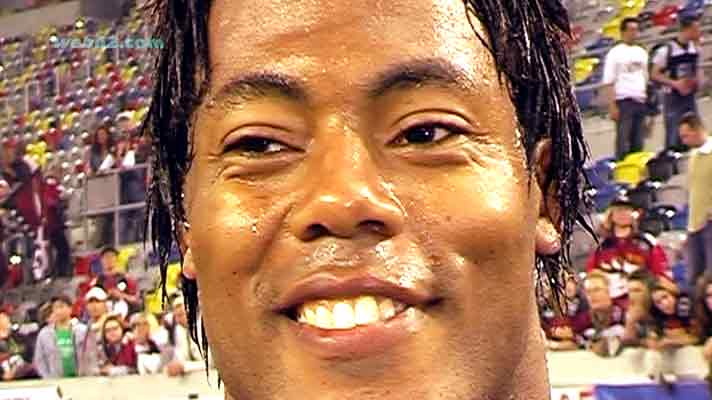 Joe Smith Titans
Born on August 26, 1979
College: Louisiana Tech
Height: 6-4
Weight: 330