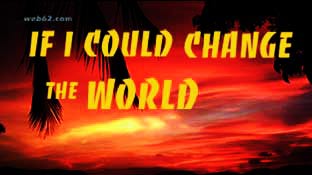 Over the years many people were asked, what they would like to change in this world if they could do something with just a snap of their fingers.
BFBS Reggae DJ legend David Rodigan had called it a "magic want" and these videos are featuring wishes from people in Barbados, New York, Ghana, Asia with also Francis Rossi from Status Quo, Shaggy, Branford Marsalis and so many others.
Old statements on Real Videos
Real Video 5
Buccaneers Cheerleaders, Singer Jessica, Doug Graber and fashion designer Mari Ot.
Real Video 4
Aja Addy, Karen Simonsen, Manfred Kronen, Jason Brookins and Alex Leibkind.
Real Video 3
Jaguars Cheerleaders the Roar, Dr. Carlo Rivetti and several NFL starters.
Media Philosoper Professor Dr. Hubertus von Amelunxen.
Real Video 1
Ralf Moeller, NFL International Vice President Doug Quinn, Karen Simonsen, Tod Husak, Super Bowl Champ Tom Nuetten and 2 Dallas Cowboys.
Our country channels