Rhein Fire

Team 2003
During the NFL Europe season 2003 Charlie Adams, Autry Denson, Kendall Newson, Dwayne Blakley, Derrick Ham and Kicker Todd France had impressed at Rhein Fire by reaching the World Bowl thanks to the efforts of quarterback Nick Rolovich, who had said, "... I saw Joe Montana playing..."
Week 1
A loss @ the Admirals and head coach Pete Kuharchek was complaining about slow tackling and a harmless offense.
Week 2
brought a nice win at Thunder with a much improved offense, an untouchable Autry Denson and a huge defender named Bastian Lano, who could easily make it into any NFL team.
Week 3
brought a huge win over the Claymores and team 03 had looked like the hottest one since years.
By W7 the Rhein Fire had been on track thanks to good receivers and qbs while head coach Pete Kuharchek was enjoying his two running backs. In fact a classic Rhein Fire concept with Denson as the rapid short one and Moreau to run over the defense.
In addition some smart receivers like Newson and Adams as well as a scoring qb Greison, who had made the Fire 2003 an strong and dangerous force.
The defense was highly aggressive with Abdual Howard and World Bowl ambitions were not unrealistic at all according to top expert Nick Halling.
And so it came, when the team had reached World Bowl 2003 up at the Claymores, which was lost against the Frankfurt Galaxy under head coach Doug Graber.
The Team
Adams | Anderbruegge| Blakely | Brown | Burton | Denson | Doghmi | Greison | Howard | Johnson | Jones | Keith | Lano | Moreau | Mustard | Newson | Oje | Rolovich | Smith J. | Taylor | Venzke | Yancy
All Rhein Fire players
Check out over 200 Rhein Fire player photos with also some basic information.
Unfortunately not all of the old photos are matching the quality standards of today as they were produced for 56k modem connections and they were mainly taken from VHS video tapes.Just have a look
Courtney Ledyard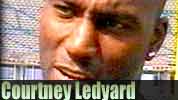 With 12 tackles Courtney Ledyard had been the best defender against the Admirals in W1. In W2 at Berlin Thunder he got injured.
Born on September 3 in 1977
College: Michigan State
Height: 6-3
Weight: 240
Interview
Video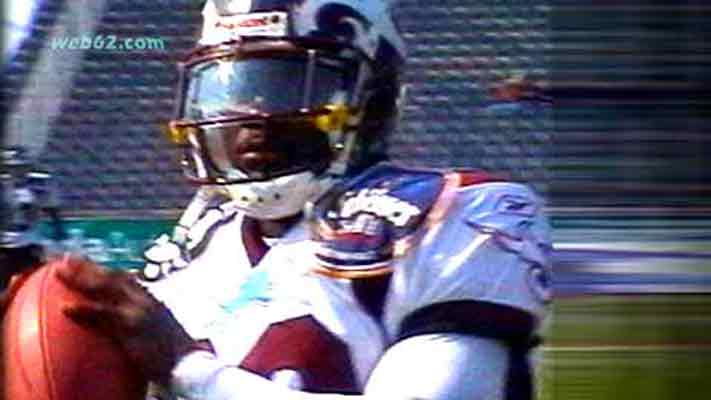 RB Autry Denson
At Rhein Fire Autry Denson had been one of the top guns in season 2003.
Rhein Fire Team 2003
QB Nick Rolovich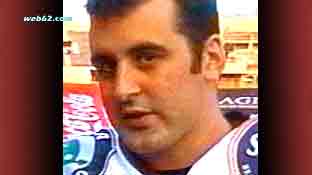 Nick Rolovich came from the Denver Broncos where he was under consideration in 2002 and in 2003. But in Europe he only made 6th best quarterback of the season.
Born in Daly City, California on February 16 in 1979
College: Syracuse
Height: 6-1
Weight: 237
LB Charles Burton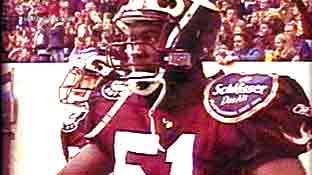 Charles Burton came from the Cardinals and at Fire he had conquered a starting position. In week 3 against the Claymores Charles Burton had shown two tackles and 1 assist. Back in the NFL he had joined the Denver Broncos for one season.
Born on May 6, 1979 in Richmond, VA
College: Syracuse
Height: 6-1
Weight: 237
RB Matt Stanley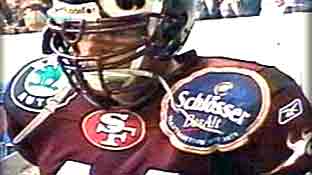 Season 2003 brought Matt Stanley to the Fire thanks to an allocation by the San Francisco 49ers. But next to Autry Denson and Frank Moreau his chances had look slim after 3 weeks.
Born on April 27 in 1979
College: UCLA
Height: 6-3
Weight: 243
Guard Dwayne Ledford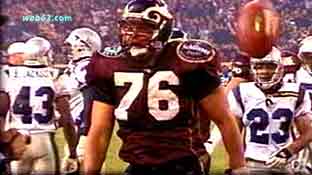 Rhein Fire's Dwayne Ledford had been with the San Francisco 49ers in 1999, 2000 and 2005, where he was on eight games. In between he had stints at the Jaguars and Browns.
Meanwhile Dwayne Ledford has started a career in coaching.
Born on November 2 in 1976 in Morganton, North Carolina
College: East Carolina
Height: 6-4
Weight: 300
DE Derrick Ham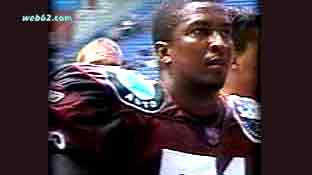 Defensive end Derrick Ham had been with the team in 2003 and in 2000, when they had won the World Bowl.
In between he had been with the Redskins and the Browns.
Born on March 23 in 1975 in Merritt Island, Florida
College: Miami (FL)
Height: 6-4
Weight: 281

Guard David Viger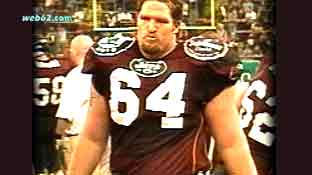 Rhein Fire 2003 guard David Viger had been allocated by the Jets and he came from the Navy.
Born on May 13 in 1975
Height: 6-4
Weight: 281
G Jim Jones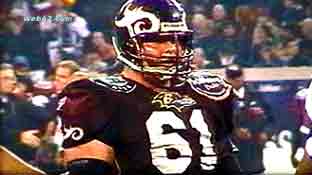 Offensive guard Jim Jones had come from the Ravens before the Pittsburg Steelers had added him to their roster from 2004 until 2005.
Born on January 27, 1978 in Chicago, Illinois
College: Notre Dame
Height: 6-3
Weight: 319
TE Chad Mustard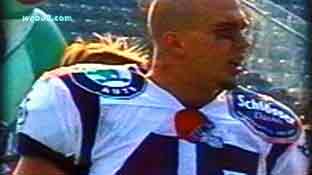 Tight end Chad Mustard had played for the Rhein Fire in 2003 before he appeared on 17 games for the Cleveland Browns.
From 2006 until 2008 Chad Mustard had his best time with the Denver Broncos, where he had been on 32 games.
Born on August 10 in 1977 in Columbus, NE
College: North Dakota
Height: 6-6
Weight: 277
WR Emmett Johnson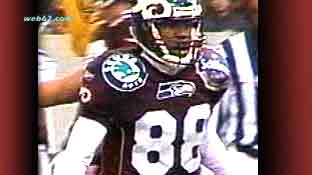 Emmett Johnson had been with the Seattle Seahaws.
Born on March 17 in 1980
College: Virginia Tech
Height: 6-2
Weight: 2055
S Abdual Howard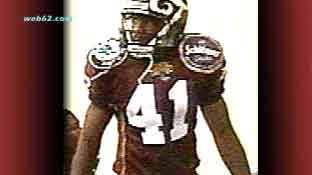 Safety Abdual Howard had been under evaluation at the Jacksonville Jaguars and in week 3 of season 03 he had converted an interception into 93 yards and a TD against the Claymores.
Born on January 27 in 1979
College: Florida State
Height: 6-3
Weight: 185
K Todd France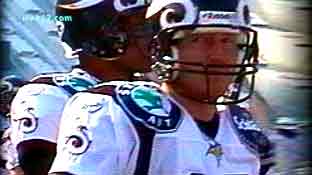 Rhein Fire 2003 Kicker Todd France had been with the Eagles and the Tampa Bay Buccaneers.
Born on February 13 in 1980 in Toledo, Ohio
Height: 6-0
Weight: 210