Jamie Baisley
LB Rhein Fire
It was hard to believe, that a great linebacker like Jamie Baisley had never found his way into an NFL team.
He had played three seasons at Rhein Fire and in 2000 some 65 solo tackles and 2 sacks had documented his enormous talent as well as his superb touchdown against Berlin Thunder in 1999.
Claymores Head Coach Jim Criner is a true defense believer and in his video interview he had said, that his vote had been for Jamie Baisley to become the Defense MVP 2000.
After season 2000 Jamie Baisley had moved to the XFL team Chicago Enforcers.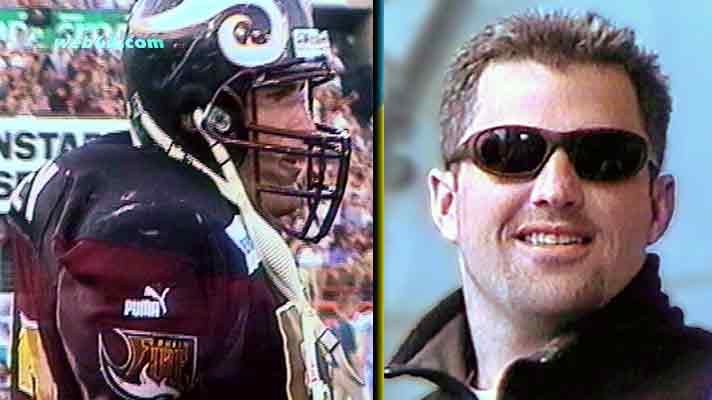 LB Jamie Baisley
Born on March 1 in 1974
College: Notre Dame
Height: 6-2
Weight: 246

LB Jamie Baisley
Jamie Baisley videos
Jamie Baisley interview
Video
Jamie Baisley @ World Bowl 2000
Video 1
Video 2
Video 3
Video 4
Video 5
Jamie Baisley vs. Amsterdam Admirals
Video
Jamie Baisley vs. Barcelona Dragons
Video
Jamie Baisley vs. Berlin Thunder
Video
Jamie Baisley vs. Frankfurt Galaxy
Video
Jamie Baisley vs. Scottish Claymores
Video