John Galliano

@ the House of Dior
What a story this was.
An Englishman in Paris became a legend in the world of high end designer fashion and nowhere less than straight out of the old noble House of Dior where he had managed to replace the ancient Tango with some more colorful and spectacular compositions that were rocking the planet for a complete new chapter in global fashion history.
John Galliano had shown loads of courage when taking it all the way from Mama Africa Alek Wek to Bowie's young dudes or Caribbean Voodoo and whatever had come across in his Manga type of a wonderful fairy tale fantasy worlds.
Of course some of his words shouldn't have been said and a penalty seems obviously more than deserved.
But on the other hand one has to consider, that he is not a politician, journalist or in any way relevant outside his small world of high end designer fashion so that some few words of a drunk fashion genius seem to be very little to justify his dismissal.
Of course any kind of such dumb statements are not very beneficial for a leading fashion house such as noble Dior as not only Jewish customers could feel uneasy with these type of opinions.
Dior videos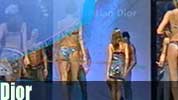 The House of Dior had presented Lingerie at the CPD fashion trade fair, where it was introduced by Isabelle Chartean.
It wasn´t an official Dior Show and John Galliano had not been amused at all when this video had gone around the world as a webcast, which was heavily promoted by Real Networks.