Horse in the Year of the Rooster
Horses were the country leaders in Australia, England, France, Germany, Italy, Egypt and Turkey during the Year of the Goat but the 2016 Monkey Year has led into big trouble.
And now on January 28 the much better Rooster Year will start.
Horses
in the limelight
Chase Carey has taken over the lead in Formula 1 from Bernie Ecclestone.
Back in the Rooster year 1993 the "Dallas Horses" Jerry Jones, Troy Aikman and Daryl Johnson could win the Super Bowl alongside "Rooster" Emmitt Smith. This time head coach Jason Garrett had failed with Rooster Dak Prescott on the case.
Saints' QB Drew Brees is the best passer in the NFL and Jennifer Lawrence was named by Forbes as the top earning female in Hollywood.
Is Francois Fillon going to replace Francois Hollande in France?
After only 67 days Sam Allardyce has resigned as the manager of England's national football team.
Fernando Santos has won the Football Eurocup with Portugal while all those Horse politicians are facing trouble. Edogan saw a coup, David Cameron resigned while Hollande and Angela Merkel suffer from protests.
Halle Berry has announced her divorce from "Snake" Olivier Martinez while Nicole Scherzinger is now getting entertained by Tennis "Goat" Grigor Dimitrov.

Horse Symbol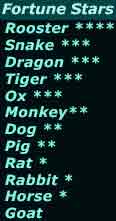 ... the life of a Horse .... the hardest workers
In China they say, that the Horse does always find his way home, what may explain their tremendous role in global politics.
With Nelson Mandela, Thabo Mbeki and Jacob Zuma South Africa prides three consecutive Horse year born Presidents while Helmut Schmidt, Helmut Kohl and Angela Merkel were covering 30 years of leadership in Germany.