Rat in the Year of the Monkey
The 2014 Year of the Horse was as great as predicted with two World Championship titles to become the Symbol of the Year for global leadership in Formula 1, FIFA Football and with a No.1 in Golf. Also the Year of the Goat brought some nice wins and since February 8 the Year of the Monkey will change the game to a much more dynamic one. And this was the first general outlook on 2016 for all Chinese symbols
Rats
in the limelight
Lewis Hamilton has lost all Formula 1 championship chances after an engine failure in Malaysia.
U.S. swimmer Ryan Lochte had been the ugliest appearance at the Olympic games in Rio.
Juergen Loew could not impress with Germany at the Euro Cup.
In Spain Pedro Sánchez is having problems in forming a government.
Dwayne Johnson made $45 million in Hollywood during the Year of the Goat and Sean Penn is once again with "Dog" Madonna.
FIFA kingpin Joseph Blatter has become afraid of leaving Switzerland after investigations were intensified and Real Madrid's manager Rafael Benítez fears about his job after his team was thrashed by Barcelona.
Lewis Hamilton has won his third Formula 1 Championship and Idris Elba is getting named as a potential new James Bond.
Chinese Horoscope for the Rats in the 2016 Monkey Year
What a crucial 2004 Monkey year it was for Mark Zuckerberg, who had launched his facebook to become the youngest billionaire in history.
And Sean Penn took an Oscar what does indicate, the the Rat year born are likely to have another fine year before the 2017 year of the Rooster will slow things down.
In the Chinese Astrology the Rat and the ruling Monkey are mentioned as classic soul mates and that's why a lot of good Karma will be falling on one of the smartest and best communicating symbols.
The Rats will enjoy most of the action that will make 2016 a highly adventurous year in which they should accumulate a bit of wealth to get through two much less favorable years.
And certainly all single Rats should start to look out for a Monkey year born partner to get the most out of 2016.

Rat Symbol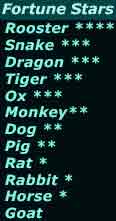 ... the life of a Rat .... born to communicate
Khomeini, Jimmy Carter, George Bush, All Gore, Howard Dean, Jon Huntsman and Jean Chrétien have revealed the political talents of the Rats.
Chinese call the Rat"Zi" what means "shu", always ready to attack.