Travel Business News
2 most explosive Internet businesses in the world are heating up fast. Online travel bookings and Internet TV. Anyone ready to join and participate ?
Travel warnings
The BBC and other media sources are warning of travels to the UAE where irrational prosecution has sentenced a UK tourist to 4 years in prison after Dubai customs had spotted 0.003g cannabis stuck to his shoe. Also the possession of pain killers and other ordinary medicine is triggering lengthy jail sentences.
Turkey is now offering separate beaches for Muslims and on Creta islanders have demonstrated against vandalizing young British tourists who enjoy drinking, fighting and fornicating in the streets at night.
Interesting travel and tour arrangements to South Africa are offered at 12gotours.com
Ryanair sold 1 million tickets for 1 cent with all taxes and fees covered.
The U.S. travel industry suffers from a 17% decline since Sep 11. However most foreign tourists feel widely discouraged from aggressive immigration regulations and unfriendly officers.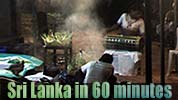 The real Sri Lanka in 60 minutes - a land like no other.
Video
Tourism in Malaysia
Nearly 25 million tourists, Formula 1 and Air Asia are only some of the impressive facts revealed by Tourism Board Director Mohd Fami Nordin.
Travel links
talesofasia.com exceptional Travel Blog for East Asia
Online Travel Guide galago.net
Travel Videos
Eco Luxury Holidays at The Racha
Video
Malaysia Tourism & Investment
Video
Hospitality & Travel Show Phuket
See the video
Turtle Funk
Fun Video
Haputale Love Sri Lanka
Video