Danny Wuerffel

QB Saints / Redskins
Having won the Heisman Trophy had been a fine foundation for Danny Wuerffel just like it was for the great Cam Newton.
Danny Wuerffel's NFL quarterback career began at the New Orleans Saints, where he had been on 18 games in between 1997 and 1999.
He had started in seven scoring 9 TDs.
In 2000 Danny Wuerffel was allocated to the NFL Europe, where he had started slow @ Rhein Fire with a close win against the Dragons in W1.
But by the end of a great season he had earned QB of the NFL Europe 2000, what was rewarded by 3rd string role @ the Green Bay Packers which was won against his great rival Marcus Crandell.
But at the Packers his results remained dismal with only one game attended and a total of -2 rushing yards from 2 attempts.
The same awful score Danny Wuerffel had to face at the Chicago Bears in 2001 until we went more fortunate at the Washington Redskins, where he had even reached the starting position in week 5 of season 2002.
But again some tragedy hit the World Bowl Champion, when a DE tackle resulted in a serious shoulder injury, which threw him out of the game.
On top of that the No 3 rookie quarterback had shown the game of a lifetime at Washington Redskins when he got hit badly.
3 Touchdowns in seven games in addition to nearly 800 yards will surely be remembered by Danny Wuerffell as much as the World Bowl win in 2000.
After his NFL career Danny Wuerffel went truly unlucky, when his house was taken away by Hurricane Katrina before he later began to suffer from the nasty Guillain–Barre syndrome, what is a disorder of the nervous system.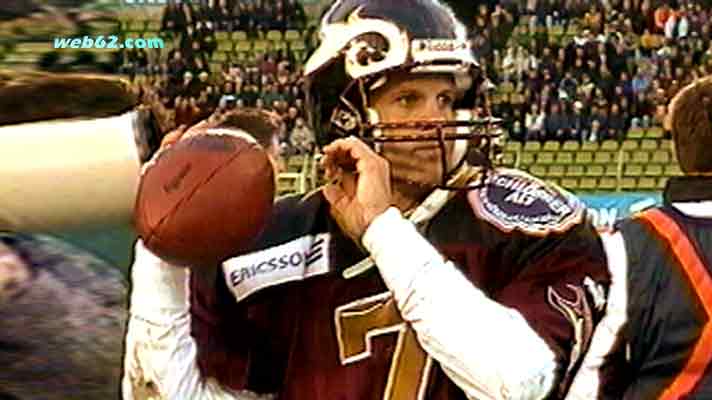 Danny Wuerffel Saints Redskins
Born on May 27, 1974 in Fort Walton Beach, FL
College: Cincinnati
Height: 6-1
Weight: 212
Danny Wuerffel videos
Interview with Danny Wuerffel
Video
As World Bowl Champion
Video
Danny Wuerffel @ World Bowl 2000
Video 1
Video 2
Video 3
Video 4
Video 5
Danny Wuerffel vs. Amsterdam Admirals
Video
Danny Wuerffel vs. Barcelona Dragons
Video
Danny Wuerffel vs. Berlin Thunder
Video
Danny Wuerffel vs. Frankfurt Galaxy
Video
Danny Wuerffel vs. Scottish Claymores
Video

QB Danny Wuerffel