"Graffiti is a free artform"
so said ATP CEO Mark Miles in a video interview about Graffiti and here are photos and videos from impressive walls in Thailand, Germany and other countries.
Explore a collection of Graffiti photos from over 16 years and enjoy a constantly growing exhibition with pictures, videos and many celebrities commenting on Graffiti.
Find all on our Graffiti arts Internet TV channel with video comments from Barbados, some Dallas Cowboys, Coolio, Fashion Models, Designers, Musicians, NFL players, officials, business tycoons and many wonderful people from all around the world.
Graffiti videos
Comments n´ Paris Graffiti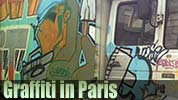 See the famous Graffiti vans in Paris combined with international video comments.
VIP comments on Graffiti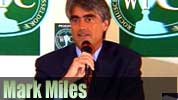 Video comments on Graffiti by Branford Marsalis, Reggae DJ David Rodigan, ATP CEO Mark Miles a.o. folks.
Graffiti Walls and comments from Barbados, New York, Right said Fred, Gbenga Olaniyi, Harald Gloeckler and Doug Quinn from the NFL.
Graffiti Walls and comments by Dallas Cowboys' Alvin Harper, a Brazilian Dancer and bodypainter Newton Moraes and some famous UK DJs.
From the old 56k modem days
Graffiti Walls and comments from a Jaguars's cheerleader, fashion designer Karen Simonsen and 49ers legend Guy McIntyre.
Graffiti Walls and comments from a Gladiator Ralf Moeller, QB Todd Husak, two Dallas Cowboys and a Jaguars's Cheerleader.
Graffiti Walls and comments from a Smith & Mighty and the fashion designers Karen Simonsen and Dr. Rivetti.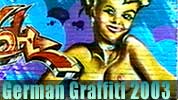 Sunny and sexy had been some German Graffiti walls back in 2003.
More German Graffiti walls from 2004 on old modem streams.