Players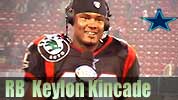 Dallas Cowboys RB Keylon Kincade had helped his Cologne Centurions with 2 TDs to defeat Frankfurt Galaxy.
Later Keylon Kincade got added to the practice squad of the Dallas Cowboys and also Kory Chapman got called by the New England Patriots.
The last head coach at the Cologne Centurions had been David Duggan alongside GM Hauke Wilkens.
Season 2006 had not been that much convincing and here are the game reports with many pictures and player portraits.
Watch a newly edited 17 minutes World Bowl to Super Bowl video.
youtube video
action
Centurions game videos
Cologne Centurions 2006 Videos
Admirals @ Centurions
w 2 Youtube Video
Fire @ Centurions
w 3 Real Video
Cologne Centurions 2005 Videos
Fire @ Centurions
W 9 Yoube Video
Admirals @ Centurions
W 4 Real Video
Galaxy @ Centurions
W 3 Real Video
Centurions @ Fire
W 2 Real Video
Devils @ Centurions
W 1 Real Video
Rude Boys & Gals Real Video
more videos inside the Cologne Centurions Channel