Welcome to Africa related videos, interviews, live music, photos, stories and positive vibes.
Côte d'Ivoire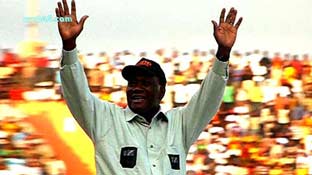 Watch a new music video with traditional dance and epic scenes from President Alassane Ouattara and his soldiers laying down their guns in Côte d'Ivoire. Photos and story
During the post-electoral crisis in 2011 the 'Dozos' had supported militias and pro Ouattara groups. Video
Ghana had come far
at the Football World Cup 2010 in South Africa! Here's the fan interviews and the game reports.
Music Download News

Our new favorite African music site is now the wonderful archive blog awesometapes.com which features vintage African Music that can be downloaded.
Ad based free mp3 streaming music or flat rate music subscriptions are now available at we7 and at spotify.
Internet Radio from Africa
Africa presents great online radio with wcr.gm from Gambia and with myjoyonline.com from Ghana.