Rhein Fire coaches
When it comes to head coaching the story had been simple.
The only champion head coach was Galen Hall, who had vanished in 2000 into the XFL alongside his NFL Europe colleagues Mike Jones, Jim Criner and Al Luginbill.
Outstanding had been Galen Hall's coaching team with Mike Jones, Bart Andrus, Whitey Jordan, Ed O'Neill and his successor Pete Kuharcheck, out of which two World Bowl winning head coaches have grown.
Sadly enough his formerly brilliant defensive coordinator Pete Kuharchek had not been able to step into his footprints and only one lost World Bowl against Berlin Thunder at home had not been enough to please the fans.
But the office stayed loyal until Pete Kuharchek made way for Jim Tomsula in 2005, who had brought back the winning spirit within only one season.
Unfortunately his stint in Duesseldorf was cut short when he had followed a call from no one less than the 49ers, who had wanted him to become their new defensive coordinator.
The very last 2007 season of the Rhein Fire saw Berlin Thunder's Rick Lantz in the head coach seat and the result wasn't the greatest at all.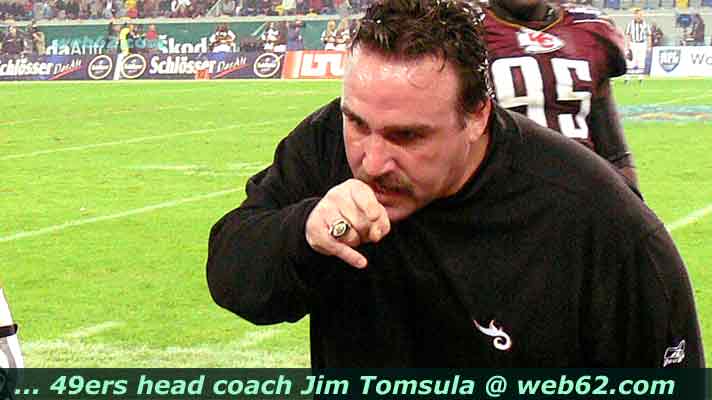 All eyes were on Jim Tomsula at the 49ers and at Rhein Fire he had brought the team back into a state of winning games.
Detroit Lions linebacker legend Ed O'Neill had only been shortly in Duesseldorf while helping Pete Kuharchek.
Ed O'Neill photos and interview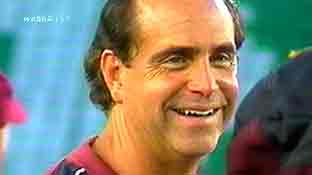 3 out of 6 teams are influenced by the Jack Bicknell school, so that new ideas from offensive coordinator Bart Andrus were great assets in season 2000. At the Titans he had helped to reach Super Bowl and qb Kevin Daft from the Claymores had been one of his men. At Fire Bart Andrus had worked together with Mike Jones, who both had put together a great receiver force with Jeff Ogden and Kevin Drake. Later as the new head coach of the Admirals he had looked back at season 2000 in a long video interview.