Rhein Fire

Team 2005
Pleasant had been at least a fine World Bowl with a great game and Shaggy in the new Rhein Fire Arena.
With Sammy Schmale the team had found a wonderful and very competent new General Manager, who was able to bring in his unique experiences at the Kansas City Chiefs in addition to his long commitment on deputy GM.
Rhein Fire fans were also pleased about the departure from the AufSchalke Arena, where the team was forced to play during the construction of the new Arena.
Adams | Anderson | Cox | Curry | Diedrick | Dorsch | Freeman | Gilbert | Hall | James | Martinez | McBrien | Mcintyre | Miree | Nash | Rader | Robinson | Smith | Strong | Thomas | Walker | Yancy
All Rhein Fire players
Check out over 200 Rhein Fire player photos with also some basic information.
Unfortunately not all of the old photos are matching the quality standards of today as they were produced for 56k modem connections and they were mainly taken from VHS video tapes. Just have a look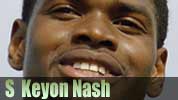 Keyon Nash had come to Europe with some great expectations.
Video interview, photos and story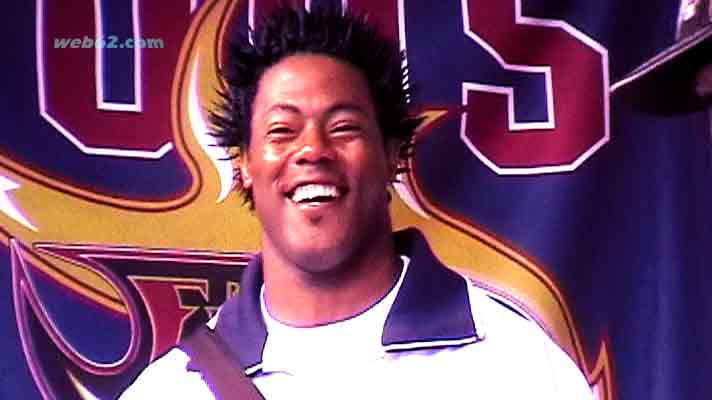 RB Joe Smith
In 2005 running back Joe Smith did win several honors during the season.
Rhein Fire 2005 Players
DT Eddie Freeman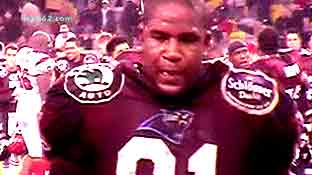 Eddie Freeman had been for 17 NFL games at the Kansas City Chiefs for 19 tackles and 4 sacks in 2002 and 2003 before he moved to the Jaguars in 2004.
Born in Mobile, Alabama on January 4 in 1978
College: Alabama - Birmingham
Height: 6-5
Weight: 315
WR Jeris McIntyre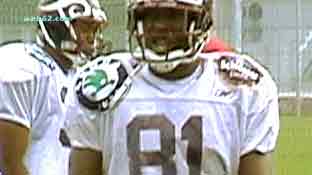 Jeris McIntyre did not see any game appearance when he was with the Kansas City Chiefs from 2004 until 2006 before he went to the Toronto Argonauts.
Born in Tampa, Florida on July 4, 1981
College: Alabama - Birmingham
Height: 6-3
Weight: 315
Clarence Curry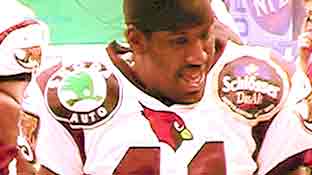 Defensive specialist Clarence Curry had come to Europe from the Arizona Cardinals, where he had been on one match.
At Rhein Fire he had a fine game against the Centurions in week 9 with 1 interception. 1 tackle and 2 assists.
Born on December 7, 1981 in Rochester, Michigan
College: Villanova
Height: 6-1
Weight: 210
CB Jonathan Cox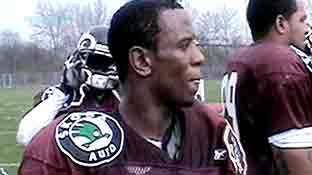 Cornerback Jonathan Cox was sent to the NFL Europe by the San Diego Chargers, where he couldn't catch a spot after his return.
Born on February 16 in 1982
College: Georgia Tech
Height: 5-10
Weight: 185
LB Josh Buhl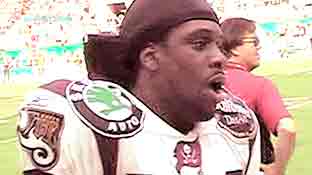 Rhein Fire's 2005 LB Josh Buhl had come from the Tampa Bay Buccaneers, but at the end of his NFL Europe campaign he wasn't able to find a decent roster spot.
Born on March 30 in 1980
College: Kansas State
Height: 6-2
Weight: 210
FB Brandon Miree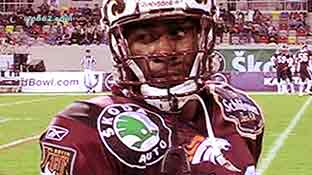 Brandon Miree had his best year in 2006 at the Green Bay Packers when being on 10 games of which he was starting on 3. Before the Denver Broncos had sent him to Europe.
Born on January 23 in 1981 in San Bernardino, California
College: Pittsburgh
Height: 6-0
Weight: 236