Jim Criner

Head coach Scottish Claymores
This video interview with Jim Criner must have been perhaps his last one as an NFL Europe head coach after his Scottish Claymores season 2000 had been a really good one with having reached the World Bowl for a second time during his long stint from 1995 until 2000.
After the lost final against Rhein Fire a journalist had asked Jim Criner about his plans for the future and his answer was left open what had turned the general feeling at the press conference into some kind of a different one from that moment on.
And year later it had looked sad for him and the League, that such fine coaches like him and Rhein Fire's Galen Hall had somehow gotten swindled into this short XFL spook where some sort of a vision with litle professionalism had only been a false promise to the two great World Bowl 2000 contestants.
Head coach Jim Criner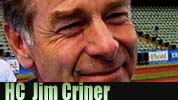 Jim Criner interview at World Bowl 2000
Video
Jim Criner World Bowl 2000 press conference
Video