Barcelona Dragons

vs. Rhein Fire 2000
Atlanta Falcons quarterback Tony Graziani had been one of the stars at the 2000 Barcelona Dragons while the Rhein Fire had quarterback Danny Wuerffel on the field, who was about to throw his team to it's last World Bowl triumph.
Barcelona Dragons videos
Barcelona Dragons vs. Rhein Fire 2000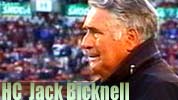 In season 2000 head coach Jack Bicknell had not been amused at Rhein Fire when his team had lost 17:28 in front of nearly 30.000 NFL fans.
Against the Dragons the Rhein Fire defense had been fairly generous in terms of playing time, but they were not allowing too many yards or points.
1. Half:
Dragons: 16:03 - Rhein Fire: 13:57
2. Half:
Dragons: 14::42 - Rhein Fire: 15:18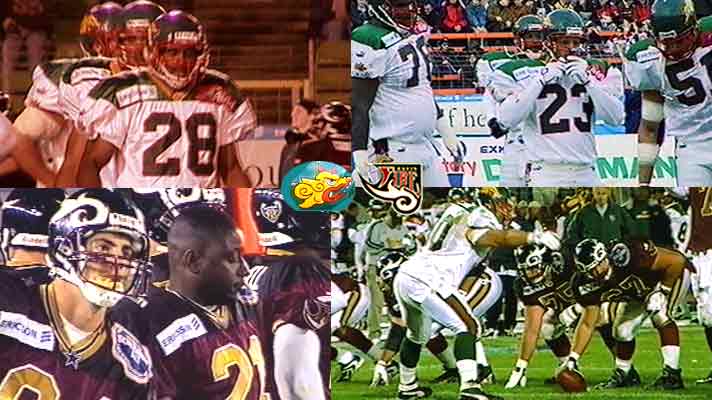 Barcelona Dragons vs. Rhein Fire 2000
In the year before the Rhein Fire had lost their season opener against the Barcelona Dragons, but in 2000 head coach Galen Hall had excellent receivers and a tough defense on the field, which didn't give his visitors much space.

Barcelona Dragons quarterbacks
With Tony Graziani and Cory Sauter the Barcelona Dragons had received two quarterbacks with NFL experience, but at Rhein Fire they weren't allowed to impress.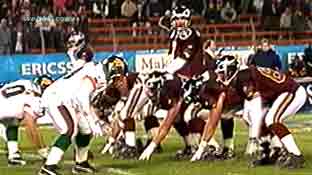 Danny Wuerffel came to the Fire with the Heisman trophy in his bag, which was also won by the great Cam Newton in 2010. During his career Danny Wuerffel had played in 25 NFL games for 2,123 yards and 12 TDs.
Dragons Offense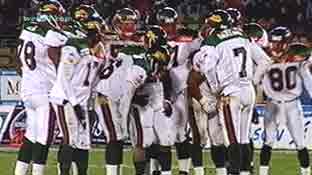 Atlanta Falcons quarterback Tony Graziani had completed 14 from his 27 passes for 144 yards while his rushing activities had brought 27 yards.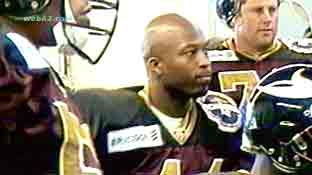 Baltimore Ravens' Anthony Mitchell didn't know at that moment, that he was bound to become the first player winning a World Bowl and a Super Bowl within one year.
Anthony Mitchell photos, info and video interview
Danny Kight