Rhein Fire

Team 2007
Under the new head coach Rick Lantz the team had concluded it's 13nth and final season as the fourth best team in the League with a 4-6 record and with San Francisco 49ers quarterback Cody Pickett on the case.
Carlyle | Elliott | Franklin, Steve | Henderson | Heyer | Jensen | Luoto | Mohr | Mulcahy | Peterson | Pickett | Rehage | Sam | Schmidt | Strong | Ville | Washington | Wrobel | Yancy
All Rhein Fire players
Check out over 200 Rhein Fire player videos, photos and information.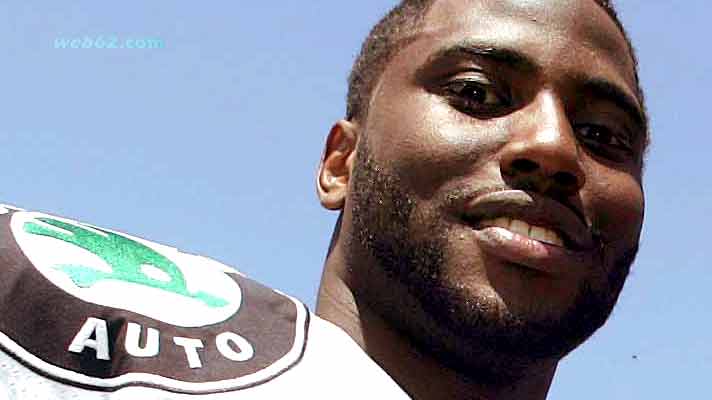 RB John David Washington
Denzel Washington's son David had come from the Hamburg Seas Devils in week 7 to replace the injured Taurean Henderson and he had surely been one of the most notable players in Fire Town.
More from John David Washington
Rhein Fire 2007 Players
QB Brett Elliott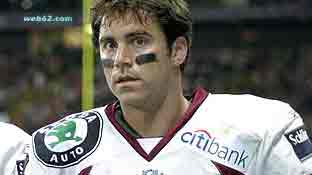 Quarterback Brett Elliott had spent the 2006 NFL season at the San Diego Chargers, but without appearing on any of their games.
Born on June 11, 1982 in Portland, Oregon
College: Linfield College
Height: 6-3
Weight: 210
WR P. K. Sam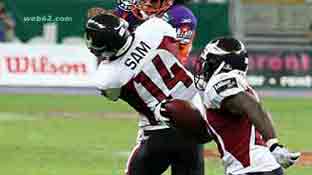 Receiver P. K. Sam had won the 2004 Super Bowl with the Patriots from where he went to the Miami Dolphins.
Born in Denver, Colorado on February 26 in 1983
College: Florida State
Height: 6-3
Weight: 210
RB Taurean Henderson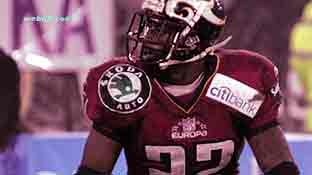 Running back Taurean Henderson had been with the Atlanta Falcons from 2006 until 2008 but without beeing on any NFL game. Against Frankfurt Galaxy Taurean Henderson had been the match winner with 2 TDs in week 5.
Born on January 20, 1983 in Gatesville, Texas
College: Winona State
Height: 6-3
Weight: 217
TE Erik Jensen Rams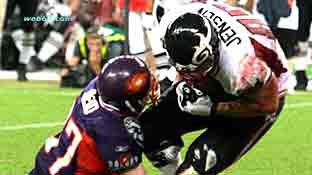 Tight end Erik Jensen had been with the St. Louis Rams during the 2004 NFL season, but he did not appear on any regular game.
Born on October 11, 1980 in Appleton, Wisconsin
College: Iowa
Height: 6-2
Weight: 253

WR Daunta Peterson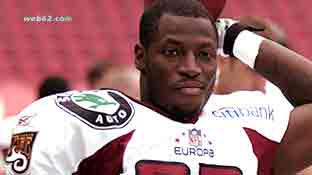 Daunta Peterson had been under the radar of the Buffalo Bills, where he had almost made it into the NFL.
Born on August 3 in 1984
College: Dubuque
Height: 5-11
Weight: 190

LB Derek Rehage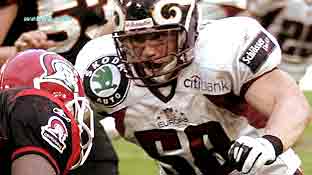 Derek Rehage was sent out into the 2007 Fire by the Pittsburgh Steelers, where he couldn't land a job after his NFL Europe campaign.
Born on August 26 in 1982
College: Miami, Ohio
Height: 6-0
Weight: 242

DE Zach Ville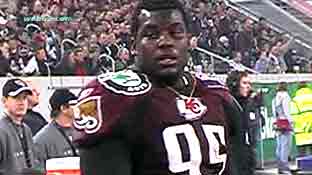 Defensive end Zach Ville had been with the Kansas City Chiefs from 2005 until 2006 before he had stepped into the Fire for 2006 and 2007.
Born on April 24 in 1982
College: Missouri
Height: 6-1
Weight: 291

G Steve Franklin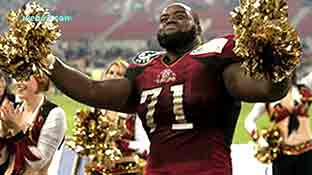 Guard Steve Franklin had not made it on any of the NFL teams.
Born on June 9 in 1983
College: Syracuse
Height: 6-2
Weight: 302

FS Calvin Carlyle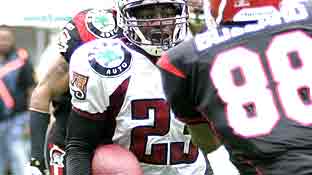 Safety Calvin Carlyle had been a FA Draft-7 choice of the Rhein Fire team 2007 and in 2002 he had been with the Washington Redskins.
Born in St. Thomas, Jamaica on September 12 in 1979
College: Oregon State
Height: 6-3
Weight: 184

DT Brennan Schmidt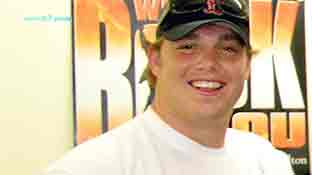 Brennan Schmidt had been with Detroit Lions before he came to Europe.
Born on May 5 in 1983
College: Virginia
Height: 6-3
Weight: 184