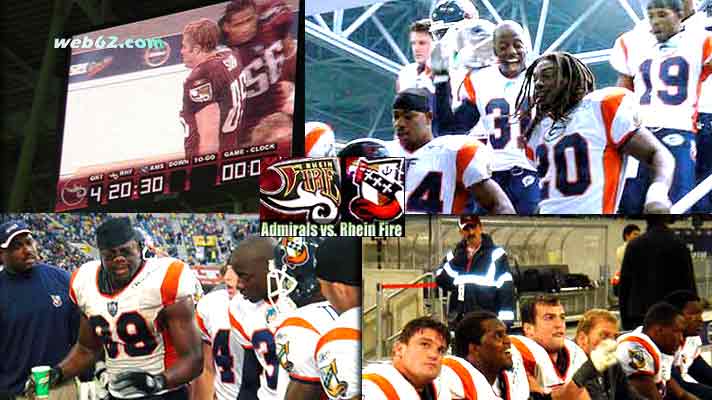 Admirals vs. Fire 2006
113.8 fans watched an entertaining game at Rhein Fire with many high class players on the field.
Players and game scenes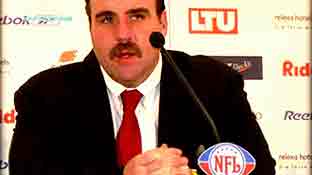 Rhein Fire's head coach Jim Tomsula was about to leave Europe to become the defensive coordinator at the 49ers and the two losses against the Admirals had demolished his World Bowl prospects by leaving him with a 6-4 season.
Rhein Fire offense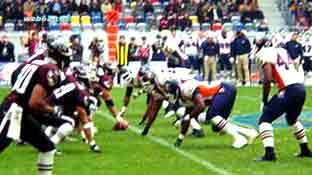 Running back Fred Jackson had been the best rusher with 74 yards while Drew Henson qb rating was as low as 68.9 in comparison to Gibran Hamden with 113.8.
Admirals defense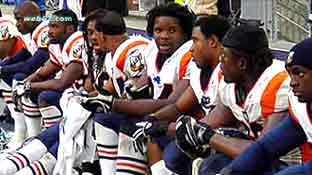 Atari Bigby had contributed 5 tackles and 1 assist while Jeremy Cain from the Chicago Bears had been the best defender with 8 tackles and one assist.
Nick Hannah Colts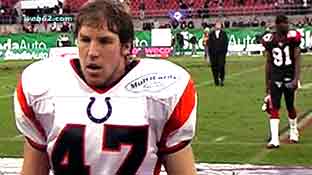 Linebacker Nick Hannah was allocated by the Indianapolis Colts and at Rhein Fire he had shown 3 tackles and 1 assist. But back in the NFL he couldn't find work.
Born on: November 3, 1981 in East Wenetchee, WA
College:Eastern Oregon State
Height: 6-1
Weight: 220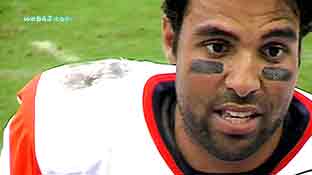 Admirals quarterback Gibran Hamdan had completed 14 from 21 passes for 203 yards and 1 TD without causing any interception.
Gibran Hamden photos and videos
CB Gabriel Helms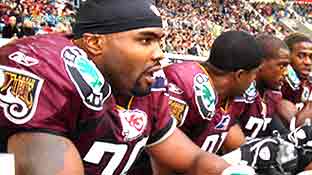 Kansas City Chiefs cornerback Gabriel Helms had 5 tackles against the Admirals and in the NFL he had only lasted one season. All together the Rhein Fire defense had shown 38 tackles, 1 sack and 13 yards gain compared to 41 tackles by the Admirals defense.
WR Jacque Lewis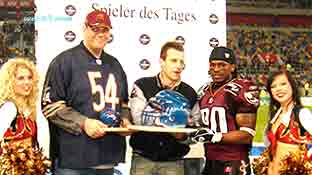 Rhein Fire's receiver Jacque Lewis had earned himself the player of the match honor with his touchdown and 6 carries for 37 yards.
TE Sean Mulcahy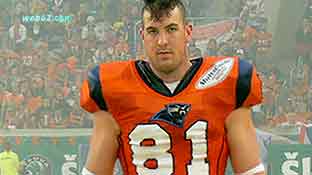 Tight end Sean Mulcahy came from The Carolina Panthers and in 2007 he played for the Rhein Fire.
Born on February 14 in 1982
College: Connecticut
Height: 6-5
Weight: 260
K Ryan Killeen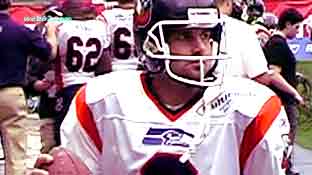 Kicker Ryan Killeen was allocated by the Seasttle Seahawks, but after the season he couldn't land a job there. Three field goals had been his contribution in the game against Rhein Fire.
Born on July 11 in 1983
College: USC
Height: 5-11
Weight: 185