Bill Schroeder
WR Packer / Lions
Bill Schroeder, Marcus Robinson, Jeff Ogden and Jason Tucker were some of the Rhein Fire receivers, who had gathered experience by working with receiver coach Mike Jones, who himself had played for the Minnesota Vikings.
From 1997 until 2001 Bill Schroeder had played in 74 games for the Green Bay Packers and he was paeking in his last season with an amazing 9 TDs and 918 yards with 53 receptions.
In 2002 Bill Schroeder moved on to the Detroit Lions for two seasons in which he scored another 7 TDs in 30 games.
After 10 NFL seasons he retired at the Tampa Bay Buccaneers in 2004 with 4,583 yards and 28 TDs.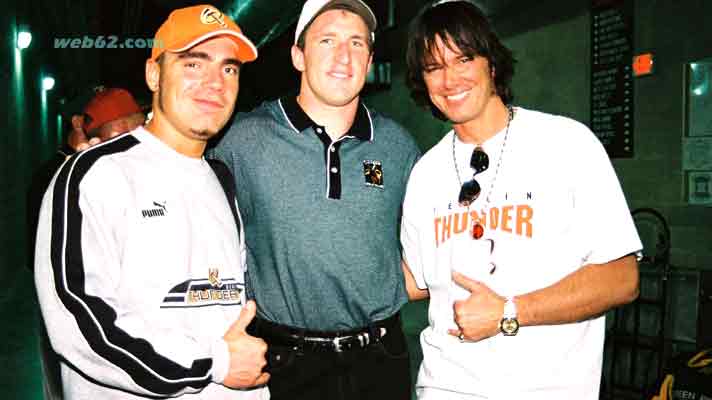 WR Bill Schroeder Packers Lions
In 1997 Bill Schroeder had found a lot of fans at Rhein Fire what earned him a visit by these two German TV celebrities from the Big Brother Show.
Born on January 9, 1971 Eau Claire, WI
College: Wis.-La Crosse
Height: 6-3
Weight: 200
Photo by Rhein Fire PR