WR Kez McCorvey
Detroit Lions
From 1995 until 1997 Kez McCorvey had been with the Detroit Lions before he came to the Rhein Fire for an exciting season 99.
At the Detroit Lions Kez McCorvey had been on 9 games scoring 2 receptions for 9 yards.
In 2012 Kez McCorvey and his Toronto Argonauts had become the CFL Grey Cup Champions.
Kez McCorvey Detroit Lions
College: Florida State
Born on January 23, 1972 in Gautier, MS
Weight 180
Height 6-0
Kez McCorvey 1999 videos
Kez McCorvey vs. Berlin Thunder
Video
Kez McCorvey vs. Barcelona Dragons
Video
Kez McCorvey vs. Frankfurt Galaxy
Video
Kez McCorvey vs. Scottish Claymores
Video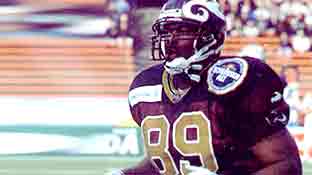 Kez McCorvey Detroit Lions