The XFL

American Football
The XFL Party with 8 teams had only lasted for one single season. Nevertheless, this small coverage will remain for a while to look back at some of the players and coaches, from which many had come from the NFL Europe teams to win the $1 Million championship.
In the end they did not get too far with the XFL League, which was mainly built on more enforced violence and cameras a lot closer to the cheerleaders.
One positive aspect of failure of the XFL had been the return of Mike Jones, who had first come back to the Rhein Fire before he became an excellent Champion head coach at Frankfurt Galaxy.
NFL Europe players and coaches in the XFL
Birmingham Bolts
Alexander | Burton | Butler | Drake | Gustin | Hogg | Loggins
Chicago Enforcers
Baisley | Bishop | Brew | Finkes | Fitzpatrick | McCullar
L.A. Xtreme
Al Luginbill | Allen | Billups | Brymer | Copeland | Cortez | Dunn | Kirksey | Milanovich
Las Vegas Outlaws
Jim Criner | Berti | Blackman | Brady | Floyd | Herndon | Hippler | Snell | Tuipala
Memphis Maniax
Crandell | Frier | Hogans | Lenon | Peoples | Pope
|
Sutton
New York Hitmen
Orlando Rage
Galen Hall | Mike Jones | Akers | Anderson | Baily | Bates | Bell | Bowman | Brown | Burks | Clark | Cloman | Collins | Duff | Fisher | Gamble | Gilliard | Gragg | Hart | Shay
San Francisco Demons
Barnes | Battle | Johnson | Kobdish | Palmer | Williams
Videos with XFL players
After it had been all over with the XFL coach Mike Jones had said, that the violence had gone way too far. In fact he had referred to bone breaking intentions and activities long before the Carolina Panthers got caught with their bounty system.
They have played in the XFL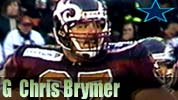 Chris Brymer from an L.A. Extreme - Dallas Cowboys - Rhein Fire top gun to the state of a homeless prisoner.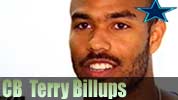 CB Terry Billups is also engaged in media business.