Scottish Claymores

Team and players 1999
Dameyune Craig had been one of the best quarterbacks that the league has ever seen, but the Claymores were not able to reach the World Bowl despite also having the great wide receiver Yo Murphy on board.
In addition some famous NFL veterans had emerged in Scotland with the great Barry Stokes and Barry Sims, who combine the history of 251 NFL games.
But still, the Barcelona Dragons, Frankfurt Galaxy and Rhein Fire were as strong, what made the 99 NFL Europe season one of the very best ever with a large number of forthcoming NFL starters scattered among the above teams.
Jake Delhomme and Todd Bouman were the World Bowl qbs and only the Dallas Cowboys alone had Brandon Noble, Jason Tucker and Robert Thomas on the field.
So it wasn't an easy season for the Claymores.
Scottish Claymores team 1999
Bell | Brilliant | Campos | Cavil | Couper | Craig | DeLaTorre | Drake | Dyson | Finkes | Hart | Hernandez | Ivory | Jenkins | Joseph | Murphy | Palmer | Sellers | Sims | Stokes | Tovo | Ward
Scottish Claymores videos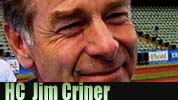 Jim Criner has been the head coach of the Scottish Claymores 1999.
Jim Criner photos and video interview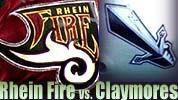 Scottish Claymores 1999 at Rhein Fire
Scottish Claymores 1999 dance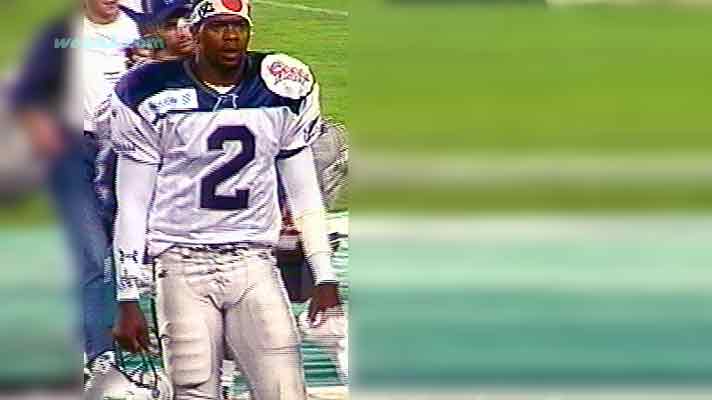 Dameyune Craig Claymores 99
Quarterback Dameyune Craig had added solid NFL experience to the 1999 Claymores.
More from Dameyune Craig
OT Barry Sims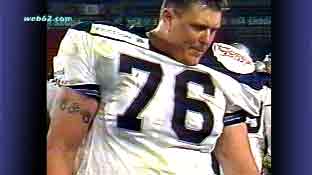 Barry Sims
had been with the
Oakland Raiders
from 1999 until 2007 before he went to the
San Francisco 49ers
from 2008 until 2010. In fact his NFL career was massive with having been on 174 games and starting in 141, what has made him the perhaps most successful Claymore in the NFL.
Born in Wheat Ridge, Colorado on December 1 in 1974
College: Utah
Height: 6-5
Weight: 300
CB Clifford Ivory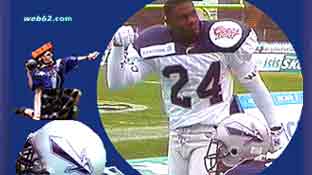 Clifford Ivory came from the San Diego Chargers and he had impressed with some great dance moves and a superb Soul Shuffle which can be seen inside the game video
Born in Quitman, Georgia on August 1 in 1975
College: Troy
Height: 5-1
Weight: 180
LB Matt Finkes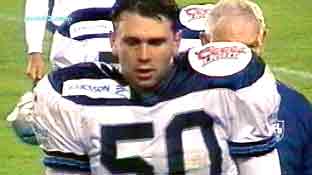 Linebacker Matt Finkes had been on 8 games at the New Yorl Jets in 1997 before he came to the Claymores. Against Rhein Fire 2000 he had shown 9 tackles and one asssist and during the 99 season he had compiled some amazing 49 tackles, 1 interception and 1 sack.
Born in Piqua, Ohio on February 15 in 1975
College: Ohio State
Height: 6-3
Weight: 372
DE Chris Ward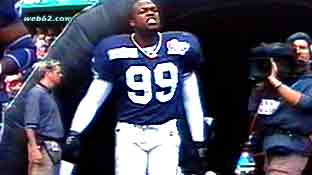 Defensive end Chris Ward had been on 5 games of the Baltimore Ravens in 1997 before he came to join the Claymores for 3 seasons.
Born in Atlanta, GA on February 4 in 1974
College: Kentucky
Height: 6-3
Weight: 271
G Brandon Dyson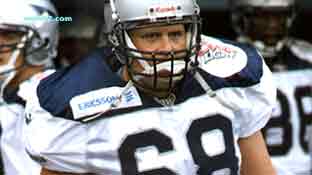 Brandon Dyson was voted the "Dirtiest Player in NFL Europe" and the amount of his fines and bad news later on in the CFL were impressive. At some point the Baltimore Ravens had shown some interest in him.
Born on May 31 in 1976
Height: 6-4
Weight: 290
WR Mike Jenkins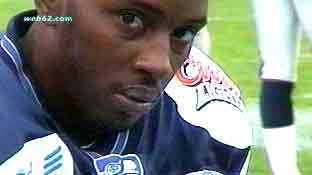 Receiver Mike Jenkins had been with the Bangles before he made it at the 1999 Seattle Seahawks.
Born in Portsmouth, VA on August 25 in 1974
College: Hampton
Height: 6-3
Weight: 191
LB Alan Campos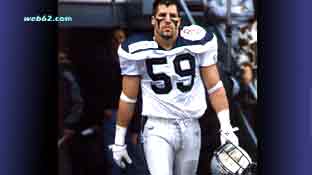 Linebacker Alan Campos had been on 15 games of the Dallas Cowboys during the 1996 NFL season.
Born in Miami, Florida on March 3 in 1973 Miami
College: Louisville
Height: 6-3
Weight: 236
TE Shonn Bell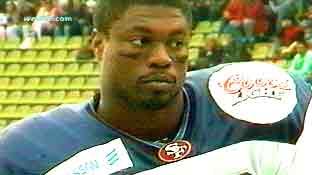 Tight end Shonn Bell had earned himself a spot at the San Francisco 49ers for the 1999 season.
Born in Portsmouth, VA on August 25 in 1974
College: Hampton
Height: 6-3
Weight: 191
OT Pierre Brilliant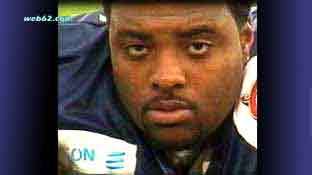 Offensive tackle Pierre Brilliant came from the Jacksonville Jaguars, where he could not land a job.
Born on August 10 in 1973
College: Cincinnati
Height: 6-7
Weight: 320
T Adam Hernandez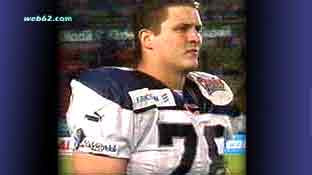 Tackle Adam Hernandez came from the Chicago Bears where he had spent most of the 1998 NFL season after the Baltimore Ravens had moved him up north.
Born in Potomac, MD on November 14 in 1976
College: Yale
Height: 6-3
Weight: 280
DT Aaron DelaTorre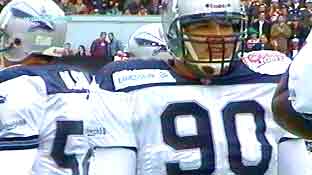 Tackle Aaron DelaTorre had played a great season for the Claymores with 2 sacks and 20 tackles but at the Dallas Cowboys he did not make it on their team.
Born on May 6 in 1975
Height: 6-1
Weight: 300
CB Terrence Joseph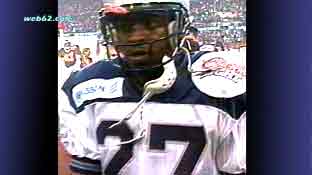 Terrence Joseph was allocated by the Steelers where he couldn't find work after his stint at the Claymores.
Born on February 14 in 1975
Height: 6-2
Weight: 221