Frankfurt Galaxy

Team 2002
The injury of quarterback Joe Hamilton had not been beneficial for the team as his substitute Bart Hendricks wasn't able to lead the team into another World Bowl, but at least they had scored third place with a winning 6-4 season.
Impressive on the team had been Cory Ivy, who has played in the NFL for 10 seasons.
Frankfurt Galaxy Team 2002
Alexander | Brown | Collins | Davis | Downey | Eason | Hamilton | Hendricks | Hippler | Ivy | Jackson M. | Mack | McDonald | Pearce | Simmons | Steele | Tharpe
Galaxy 2002 videos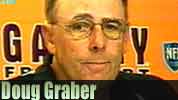 Doug Graber had been the head coach of the 2002 team and he gave an interesting interview.
Doug Graber Videos

Quarterback Joe Hamilton had fully impressed as well as Galaxy legend Werner Hippler.
Watch the old game video clip from season 2002 when 56k modems were the bottleneck of the Internet TV.
Video
DE Jerome Davis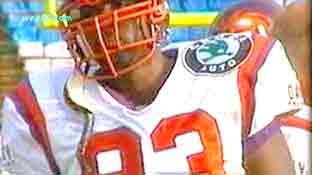 Jerome Davise had earned himself a spot at the San Francisco 49ers where had been on several games from 2002 until 2004. And his NFL rookie year he had spent at the Detroit Lions.
Born in Detroit, Michigan on March 4 in 1974
College: Minnesota
Height: 6-5
Weight: 300
TE Juan Porter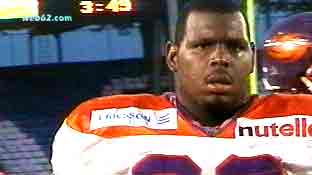 Center Juan Porter came from the Patriots and he was signed by the New York New Jersey Hitmen in the XFL for season 2001.
Born on November 26 in 1973
College: Ohio State
Height: 6-4
Weight: 295
QB Bart Hendricks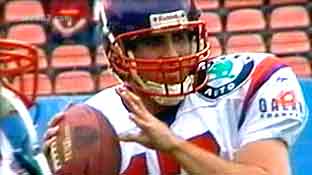 After Joe Hamilton was taken out for the season in w6 against the Dragons with a torn ACL, Bart Hendricks had stepped up nice against the Admirals. And after his two seasons in the Galaxy he had even found work at the Edmonton Eskimos up in the CFL.
Born on August 30 in 1978
College: Boise State
WR Brian McDonald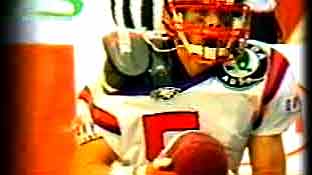 Receiver Brian McDonald had been alocated by the Eagles and he was one of the Galaxy top guns during season 2002.
Born on February 21 in 1977
College: Louisville
Height: 5-9
Weight: 178
TE Ben Steele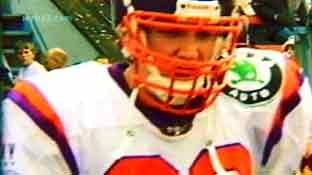 Tight end
Ben Steele
had been on 17 games for the Green Bay Packers before he moved to the Houston Texans in 2006.
Born on May 27, 1978 in Denver, Colorado
College: Mesa State
Height: 6-5
Weight: 245
DB Delvin Brown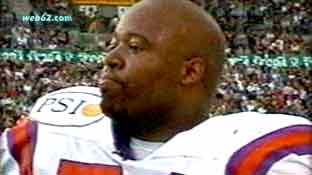 Delvin Brown had spent one NFL season at the Jacksonville Jaguars scoring 2 tackles in games before he came to join the Galaxy for a few seasons.
Born on September 17, 1979
College: Miami
Height: 5-11
Weight: 202
Curtis Alexander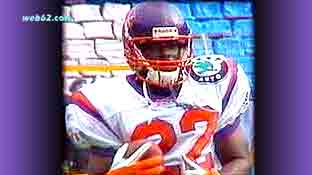 Curtis Alexander had been with the Denver Broncos and Miami Dolphins before he did reach the 2002 Frankfurt Galaxy after his stint in the XFL.
Born on June 11, 1974 in Memphis, TN
College: Alabama
Height: 6-1
Weight: 205
DB Nijrell Eason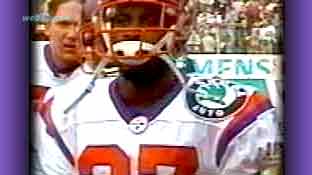 Nijrell Eason had been with the Arizona Cardinals for two NFL seasons and he has been on one game during that period. He had also been in talks with the Steelers.
Born on may 20, 1979 in Long Beach , California
College: Arizona State
Height: 6-1
Weight: 202
RB Marlion Jackson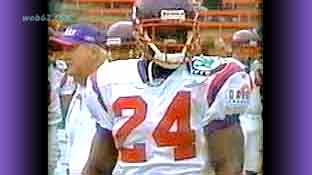 Marlion Jackson was sent into the Galaxy by the New York Jets, where he had been for 3 years. And from 2005 until 2006 the Atlanta Falcons had been his NFL team.
Born on October 11, 1977 in Detroit, Michigan
College: Saginaw Valley
Height: 6-1
Weight: 255
DT Nigel Tharpe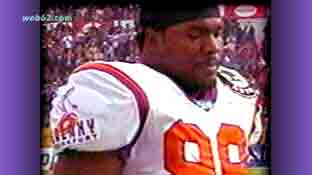 Tackle Nigel Tharpe came from the Seattle Seahawks to play for the Frankfurt team.
Born on March 24, 1978
College: Iowa State
Height: 6-4
Weight: 292
C Pat Downey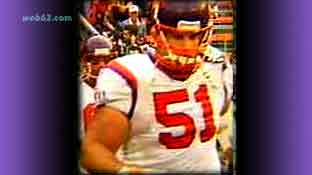 Center Pat Downey had almost found an NFL team after his stint in Frankfurt.
Born on June 21 in 1974
College: New Hampshire
Height: 6-
Weight: 300