Berlin Thunder

@ Rhein Fire 2000
Head coach Peter Vaas did come with an excellent team that only lost by one point with 27:28 in front of 33,000 NFL fans.
In the end the Rhein Fire offense had been too productive with Jeff Ogden, Kevin Drake and Danny Wuerffel, who were about to win the World Bowl a few weeks later.
But also the defense had impressed with Chris Akins and Nick Ferguson, who became a hot property at the Denver Broncos.
At the same time it had been his very last game inside the Rhein Fire Stadium for the charismatic head coach Galen Hall, who had become a true face of the verylast champion team that the Duesseldorf fans were able to celebrate as the new reign of Peter Vaas was about to unfold.
Berlin Thunder videos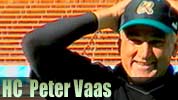 Peter Vaas pre-game interview
Video Interview