Berlin Thunder

@ Rhein Fire 2000
Head coach Peter Vaas did come with an excellent team that only lost by one point with 27:28 in front of 33,000 NFL fans.
In the end the Rhein Fire offense had been too productive with Jeff Ogden, Kevin Drake and Danny Wuerffel, who were about to win the World Bowl a few weeks later.
But also the defense had impressed with Chris Akins and Nick Ferguson, who became a hot property at the Denver Broncos.
At the same time it had been his very last game inside the Rhein Fire Stadium for the charismatic head coach Galen Hall, who had become a true face of the verylast champion team that the Duesseldorf fans were able to celebrate as the new reign of Peter Vaas was about to unfold.
Berlin Thunder videos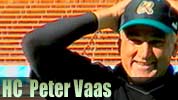 Peter Vaas pre-game interview
Video Interview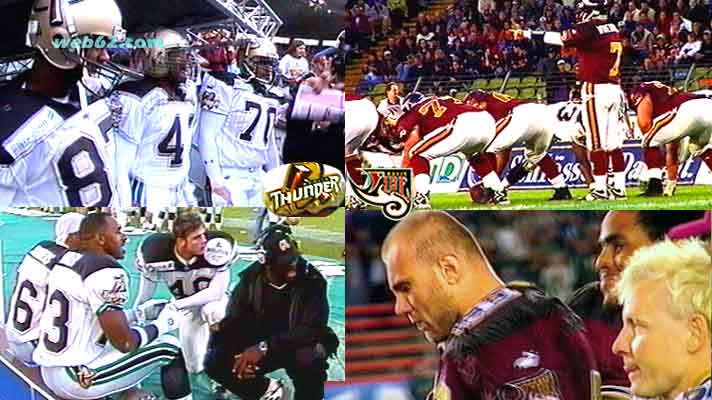 Berlin Thunder at Rhein Fire 2000
Quarterback Danny Wuerffel had impressed with efficiency by making one point more out of much fewer opportunities than the Berlin team.
Danny Wuerffel video interview and photos
Thunder quarterbacks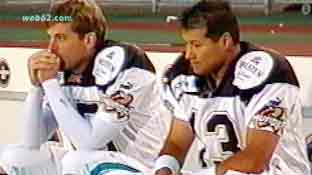 Impressive were the Berlin Thunder quarterbacks Eric Kresser and Scott Milanovich who had come up with 339 passing yards in comparison to Rhein Fire's 226. They also had much more playing time with 33:49 compared to 26:11 for the Rhein Fire, which had only scored more 6 more tackles with 43 compared to 37.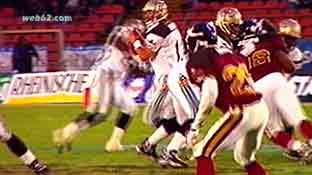 Dallas Cowboys' safety Chris Akins was on his way to win the World Bowl and a Super Bowl while trying to read the action of Thunder QB Scott Milanovich, who was throwing for the next Thunder TD by Anthony Ladd.
During the game Chris Akins had 6 tackles, which made him the second best defender on the field after Troy Saunders, who had 7 tackles.
WR Anthony Ladd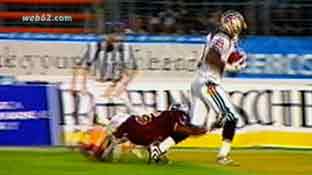 Wide receiver Anthony Ladd had scored a spectacular 47 yards TD.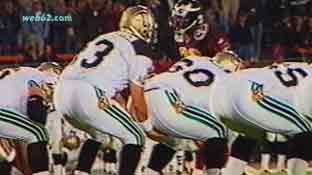 Thunder quarterback Scott Milanovich was almost constantly having the privilege to see some great painting inside the face of Nick Ferguson, who had 5 tackles and 1 assist during the game.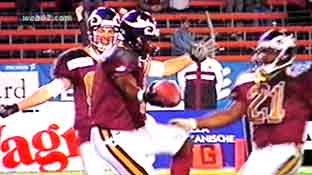 Rhein Fire's wide receivers Alonzo Johnson and Jeff Odgen were dancing just another TD shuffle with RB Ojo from Nigeria.
T T.J. Frier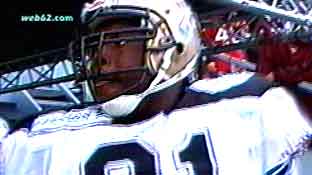 TackleT.J. Frier had shown 4 sacks during season 2000 and he went on to play in the XFL.
Born on August 17 in 1977
Height: 6-2
Weight: 307