Scottish Claymores

Team and players 2000
Dallas Cowboys owner Jerry Jones had played it safe by allocating some of his hopefulls to the Rhein Fire and some to the Hounds of Scotland, who had come out second by the end of the season and fully ready to play a World Bowl.
Duane Hawthorne, Deion Mitchel and Noel Scarlett had been under his radar, where in the end only one of them had caught a roster spot in Dallas.
Season 2000 got also marked for the last World Bowl berth, the presence of Aaron Stecker and the resignation of head coach Jim Criner.
Scottish Claymores team 2000
Allen | Blackwell | Blenman | Brady | Cavil | Crandell | Christofferson | Couper | Curry | Daft | Dingle | Finkes | Gamble | Glover | Gibson | Hart | Hawthorne | Mason | Mitchell | Newell | Ray | Scarlett | Sciffres | Sellers | Snell | Stecker | Threats | Tovo | Ward
Scottish Claymores videos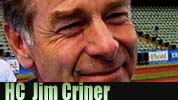 Jim Criner has been the head coach of the Scottish Claymores 2000.
Jim Criner photos and video interview
Game video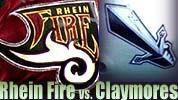 Scottish Claymores 2000 at Rhein Fire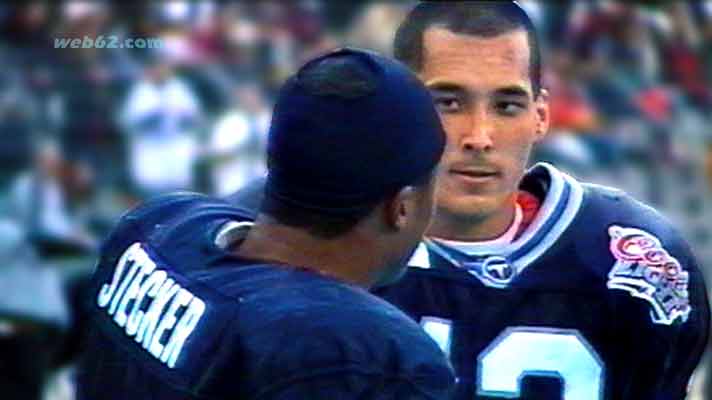 Kevin Daft and Aaron Stecker
Quarterback Kevin Daft and Aaron Stecker had been some of the most promising starters in season 2000 from which the running back had come out way on top.
TE Rickey Brady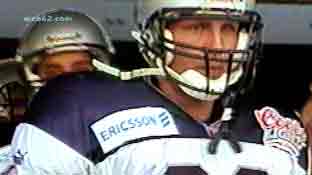 Tight end Rickey Brady had been with the Dallas Cowbys, Buccaneers, Philadelphia Eagles and even the Los Angeles Rams in 1994 before he came to the Scottish Claymores.
Born on November 19, 1970 in Oklahoma City, Oklahoma
College: Oklahoma
Height: 6-4
Weight: 246
DT Antonio Dingle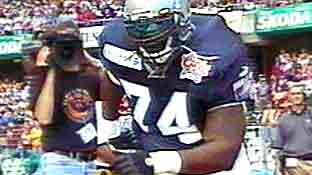 Defensive tackle Antonio Dingle got sent to the Claymores by the Carolina Panthers and for sure he was enjoying to wear their masc at the World World.
Born on July 10 in 1976
College: Virginia
Height: 6-2
Weight: 315
OT Scott Curry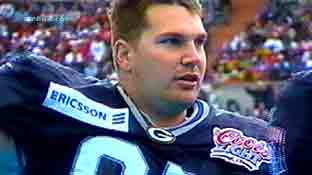 Offensive tackle Scott Curry was drafted by the Green Bay Packers in 1999 from where he got sent over to the Claymores for further evaluation. In fact Scott Curry had been on five games for the Packers.
Born on December 25, 1975
College: Montana
LB Phil Glover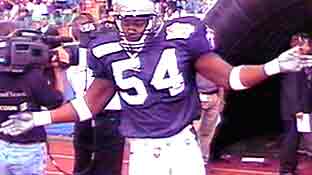 Linebacker Phil Glover was allocated by the Titans, but after his fine seasan at the Claymores the Indianapolis Colts had gotten hold of him.
Born on December 17 in 1975
College: Utah
Height: 5-11
Weight: 254
G Jason Gamble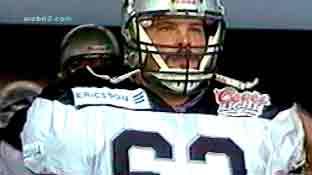 Jason Gamble had almost made it at the Dallas Cowboys, but in the end he had found more work at Galen Hall and Orlando Rage in the XFL.
Born on September 12 in 1975
College: Clemson
Height: 6-3
Weight: 307
TE Tremayne Allen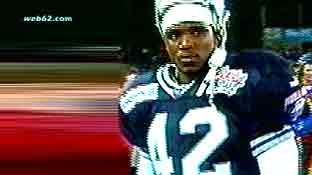 Tremayne Allen had been with the Chicago Bears for two seasons before he went to play for the Claymores from where he went into the XFL.
Born in Nashville, TN on August 9 in 1974
College: Florida
Height: 6-2
Weight: 234
G Ben Cavil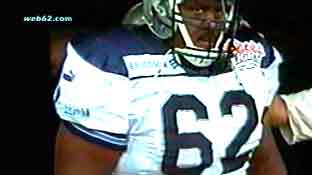 Guard Ben Cavil had been with the Baltimore Ravens in 1997 and 1998 playing in 31 NFL games of which he was starting in 14.
Born in Galveston, TX on January 31 in 1972
College: Oklahoma
Height: 6-2
Weight: 310