Scottish Claymores

vs Rhein Fire 2000
Season 2000 had brought two exquisite quarterbacks with an NFL background to the Scottish Claymores.
Marcus Crandell, who had continued at the Packers and in the XFL, went into little argues with Jim Criner.
Kevin Daft had become the third QB for the San Diego Chargers and then @ the 49ers.
Both had done a lot to make the Claymores 2000 a team to remember.
Scottish Claymores videos
Game video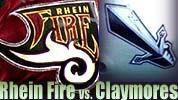 Scottish Claymores 2000 at Rhein Fire


Crandell, Daft, Andrus
The Claymores quarterbacks Marcus Crandell and Kevin Daft did not receive too much space against the Rhein Fire. And before the game Kevin Daft had a chat with Bart Andrus, whom he had met before at the Titans.


QB Marcus Crandell
Also LB Brian Smith from the Falcons and Marcus Crandell from the Chiefs wanted to win at Rhein Fire. But Marcus Crandell had not been the first choice for head coach Jim Criner though some of his team member were obviously demanding him.
Dallas Cowboys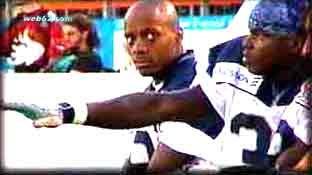 Receiver Deon Mitchell was looking very frustrated after his early injury in the game and also his Cowboys mate Duane Hawthorne couldn`t cheer him up at all and poor Deon had been shifted to injury reserve, so that NFLE veteran Don Sellers had been called once again.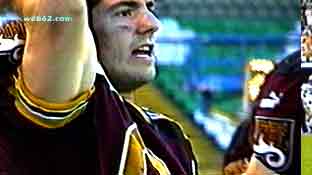 Receiver Jeff Ogden from the Dallas Cowboys had helped a lot to win the World Bowl in season 2000.
And before the break Jeff Ogden had scored a fine TD after a 30 yards pass from Danny Wuerffel.
Jeff Ogden video interview and photos
A. Mitchell & C. Akins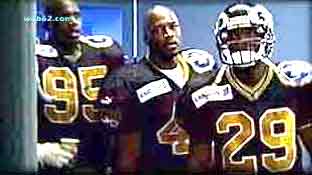 That`s perhaps why the two forthcoming World Bowl and Super Bowl winning safeties Anthony Mitchell and Chris Akins had seemed to be fairly relaxed at this point.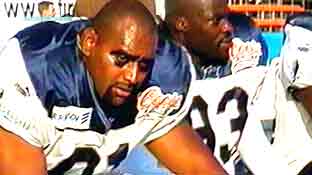 Visiting teams were given the privilege to enjoy the warm springtime sun at Rhein Fire. And so did National Tackle Tom Tovo, who had contributed one tackle in the first half.
Sunny Claymores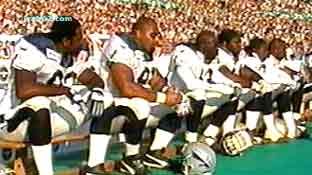 Rhein Fire had more or less controlled the game and the Hounds of Scotland were not feeling too bad about it at this moment.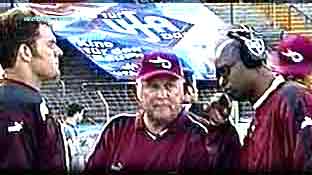 Quarterback Matt Lytle had failed to impress head coach Galen Hall and his offensive coordinator Mike Jones when his 4 passes went incomplete.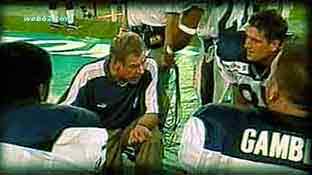 Claymores head coach Jim Criner had been on his last season just like Galen Hall and both were meeting again a year later in the XFL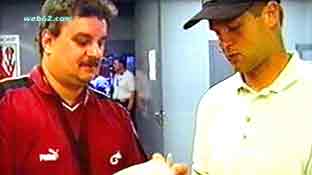 Similar to Chris Brymer also Danny Wuerffel was hit bt a lot of misfortune from health problems to the loss of his home through Hurricane Katrina.
Danny Wuerffel and Chris Brymer were born in the same year.
And here the qb from sunny Florida was awaited at the press conference, but still he found a little time for his fans and a short video interview, in which he expressed, how good it feels to play in front of a Rhein Fire crowd.