Frankfurt Galaxy

Team 1999
With their 6-4 season the Galaxy 99 had managed to reach the World Bowl leaving Rhein Fire out by a loss against the Barcelona Dragons, which was secured by a missed field goal by Kicker Ralf Kleinmann.
Furthermore it had been the season of Dick Curl's double headed monster that was consisted out of Jake Delhomme and Pat Barnes while the defense had Super Bowl Champion Clarence Love on board.
Frankfurt Galaxy Team 1999
Amey | Baily | Barnes | Barr | Brew | Cantrell | Chainy | Delhomme | Finn | Floyd | Gilliard | Gragg | Hagood | Hippler | Hogg | Kleinmann | Leshinski | Love | McCullough | Palmer | Porter | Richter
Galaxy 1999 videos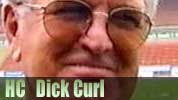 Dick Curl had been the head coach of the 1999 team and he gave an interesting interview about his team.
Dick Curl Videos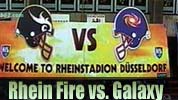 Watch the old game video clip from season 1999 when 56k modems were the bottleneck of the Internet TV.
Video

WR Andy McCullough and Galaxy TE legend Werner Hippler had both contributed a lot to the 99 World Bowl triumph at Rhein Fire stadium.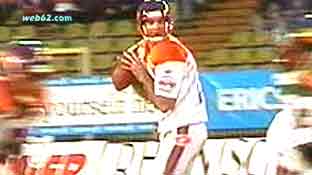 Quarterback Jake Delhomme had been leading a fine team and not much later, he had found himself starting at Super Bowl for the Carolina Panthers under head coach John Fox.
Photos and videos with Jake Delhomme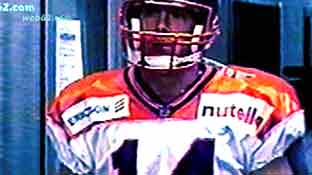 More double headed monster goodness did come from Pat Barnes, who had flirted with the Raiders and the 49ers.
More Pat Barnes photos, videos and info
OT Jay Haagood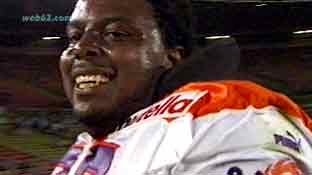 Tackle
Jay Haagood
had been with the New York Jets and the Miami Dolphins before he came to start for the Galaxy over 3 seasons.
Born on August 9, 1973 in Easley, South Carolina
College: Virginia Tech
Height: 6-5
Weight: 306
LB Whit Marshall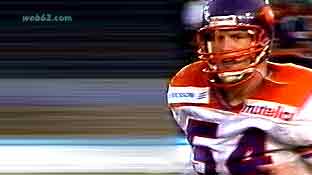 Atlanta Falcons Whit Marshall had brought in the experience from the Indianapolis Colts and from the Philadelphia Eagles.
Born on January 6, 1973 in Atlanta, Georgia
College: Georgia
Height: 6-2
Weight: 247
DB Dorian Brew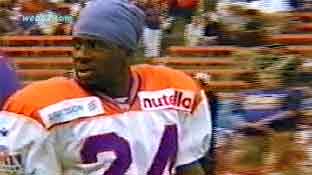 Dorian Brew was allocated by the San Diego Chargers, where he had been a six NFL games. Before he had been on 10 games over two seasons at the Baltimore Ravens.
Born on 7/19/1974 St. Louis, MO
College: Kansas
Height: 5-10
Weight: 182
T Matthew Hogg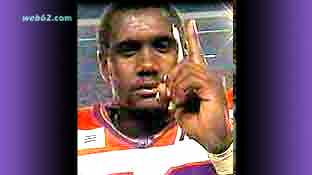 Tackle Matthew Hogg had been in talks with the Eagles before he had jumped into the Frankfurt Galaxy 1999. And in season 2001 he had signed with the Birmingham Bolts in the XFL.
Born on December 27, 1974
College: Kansas
Height: 6-5
Weight: 306
DB Harold Gragg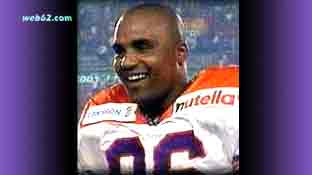 Harold Gragg did contribute 2 tackles and 1 assist in World Bowl 1999 against the Barcelona Dragons. And in season 2001 he had signed with Galen Hall and Orlando Rage in the XFL.
Born on May 17 in 1974
College: Wake Forest
Height: 6-4
Weight: 257
G Dann Finn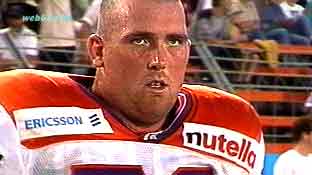 Denver Broncos guard
Dann Finn
had been another impressive appearance in the 99nth Galaxy.
Born on August 23, 1976 in Mesa, Arizona
College: Northern Arizona
Height: 6-3
Weight: 315
C Dan Palmers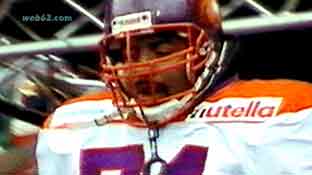 Center Dan Palmer had been a 6th round draft pick by the San Diego Chargers who had come to showcase his skills in Frankfurt City.
Born on August 24 in 1973
College: Air Force
Height: 6-4
Weight: 290
TE Ron Leshinski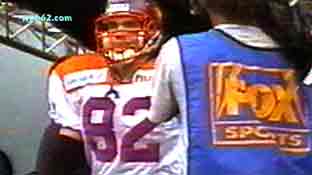 Tight end Ron Leshinski had earned himself a spot at the 1999 Philadelphia Eagles.
Born in Sandusky, OH on March 6 in 1974
College: Army
Height: 6-2
Weight: 246
TE Juan Porter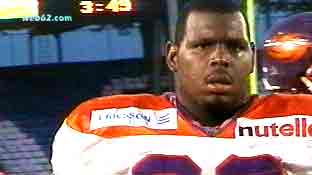 Center Juan Porter came from the Patriots and he was signed by the New York New Jersey Hitmen in the XFL for season 2001.
Born on November 26 in 1973
College: Ohio State
Height: 6-4
Weight: 295