Frankfurt Galaxy

Team 2000
In his last season head coach Dick Curl had not been too pleased about 5th place after the triumphant 1999 campaign.
Frankfurt Galaxy Team 2000
Baily | Blair | Barnes | Bohlinger | Burroughs | Cantelupe | Coleman | Davis | Floyd | Hagood | Hippler | Isaia | Kleinmann | Kobdish | Love | McCullar | Murphy | Richter | Swift | Taylor | White
Galaxy 2000 videos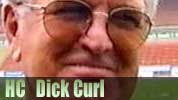 Dick Curl had been the head coach of team 2000 and he gave an interview about the Galaxy season.
Dick Curl Videos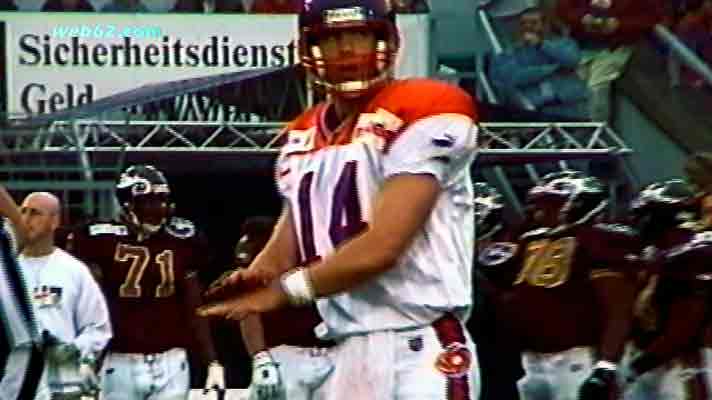 Frankfurt Galaxy 2000
Quarterback Pat Barnes and wide receiver Mario Baily were the stars of the Frankfurt Galaxy during season 2000.
Watch the old game video clip from the year 2000 when 56k modems were the bottleneck of the Internet TV.
Video
T Sale Isaia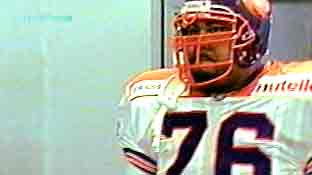 Tackle Sale Isaia was one of the big winners at the Galaxy after his performance had earned him a starting role in 14 games for the New England Patriots. Before Sale Isaia had been with the Baltimore Ravens for NFL 3 seasons and for one year with the Cleveland Browns.
Born in Honolulu, Hawaii on June 13 in 1972
College: UCLA
Height: 6-5
Weight: 320
DT Pernell Davis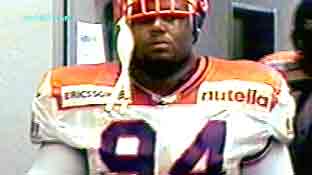 Pernell Davis saw 2 seasons at the Philadelphia Eagles, where he had been on 1 game. And in 2002 he did start for the Scottish Claymores
Born in Birmingham, Alabama on May 19 in 1976
College: Alabama-Birmingham
Height: 6-2
Weight: 320
DE Kevin McCullar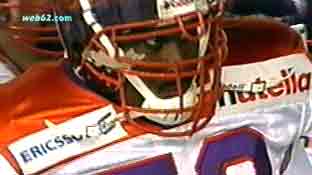 Kevin McCullar had 1 Tackle in the first half at Rhein Fire and Head Coach Dick Curl had pointed out in his video interview, that he might have a great future in the NFL, but in season 2001 he signed with the Chicago Enforcers.
Born on April 1 in 1974
Height: 6-2
Weight: 245
CB Quincy Coleman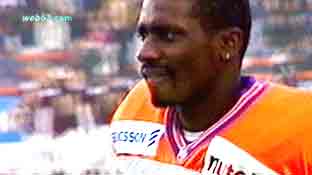 Quincy Coleman was sent by the Chicago Bears, where he had spent 1 NFL season.
Born in Birmingham, Alabama on May 23 in 1975
Height: 5-10
Weight: 182
DT Henry Taylor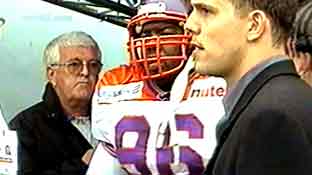 Henry Taylor saw three NFL seasons at the Lions, Falcons, Bears and the Dolphins, where he was on nine games for one tackle. "The Detroit Lions will have to think about him" so said Dick Curl on video after his stint at the Galaxy.
Born on November 29, 1975 in Broward County, FL
College: South Carolina
Height: 6-2
Weight: 295
C Justin Burroughs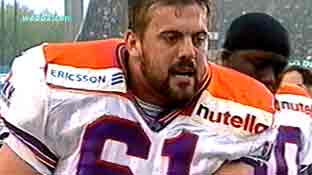 Center Justin Burroughs had been with the New Orleans Saints for 1 NFL season in 1999.
Born on May 22 in 1976
Height: 6-3
Weight: 288
OT Josh Kobdish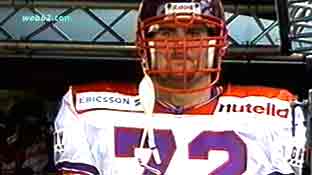 Josh Kobdish never made it into any of the NFL squads, but the XFL team San Francisco Demons became interested in his skills.
Born on January 29 in 1976
College: Fresno State
Height: 6-6
Weight: 301
T Rob Bohlinger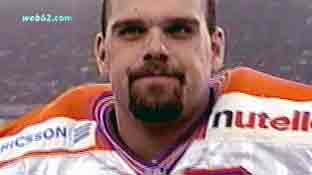 Tackle Rob Bohlinger had been on 13 games at the Carolina Panthers before he joined the Frankfurt team.
Born in Minneapolis, MN on June 14 in 1975
College: Fresno State
Height: 6-8
Weight: 310
S Jim Cantelupe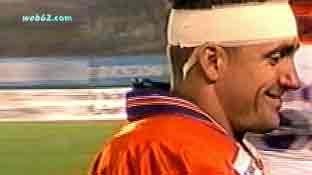 Safety Jim Cantelupe has been for 2 NFL seasons with the Chicago Bears.
Born in Garfield Heights, Ohio on March 12 in 1974
College: Army
Height: 6-0
Weight: 195
WR Todd Floyd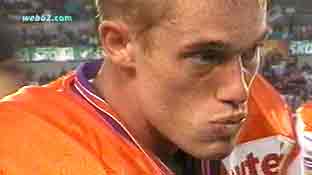 Receiver Todd Floyd came from the Jacksonville Jaguars and in 1999 and in 2000 he did start for the Galaxy before he was signed by the Las Vegas Outlaws for the XFL.
Born on May 24 in 1974
College: Nevada-Las Vegas
Height: 6-3
Weight: 190