Berlin Thunder

@ Team 2000
Head coach Peter Vaas was in his first season and 4 wins did earn his team a 5th place in the League while hosting games at Jahn-Sportpark.
Most impressive were the wide receivers Damon Dunn and Thabiti Davis, who had launched a fine career at the New York Giants.
Berlin Thunder team 2000
Berti | Blackman | Butler | Davis | Duff | Dunn | Frier | Green | Gustin | Guynes | Hogans | Jackson | Kresser | Kruse | Milanovich | Mitchell | Peoples | Shay | Sutton | Yancy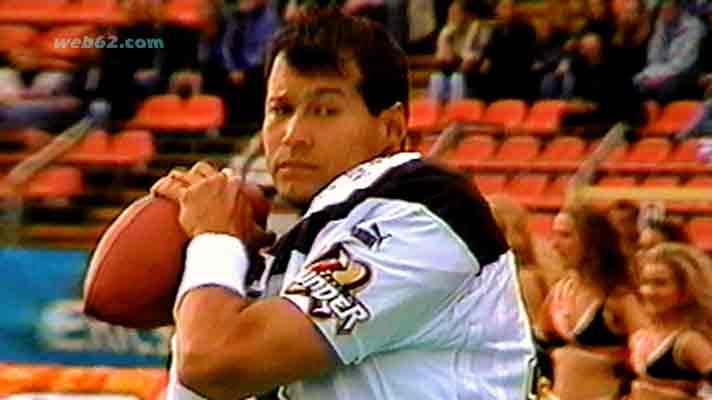 Scott Milanovich Buccaneers
Quarterback Scott Milanovich did come from the Tampa Bay Buccaneers.
Scott Milanovich info and photos
G Thomas Guynes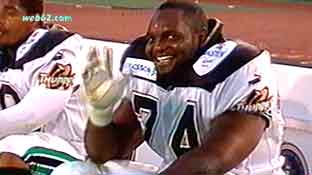 Friendly Thomas Guynes came from the Arizona Cardinals where he had been on 4 games.
Born in Marion, IN on September 9 in 1974
College: Michigan
Height: 6-5
Weight: 300
CB Duane Butler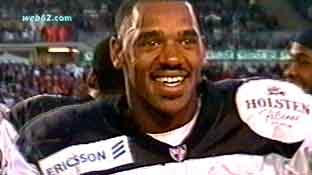 Cornerback Duane Butler had been for 2 NFL seasons with the Minnesota Vikings.
Born in Trotwood, Ohio on November 29 in 1973
College: Illinois State
Height: 6-1
Weight: 211
T Tony Berti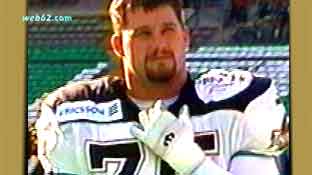 Linebacker and guard Tony Berti had been on 33 NFL games before he came to the Berlin Thunder and for 4 seasons the San Diego Chargers were his team before he had moved to the Seahakws. And from Thunder he went to the XFL.
Born in Rock Springs, WY on June 21 in 1972
College: Colorado
Height: 6-6
Weight: 300
DE Mike Sutton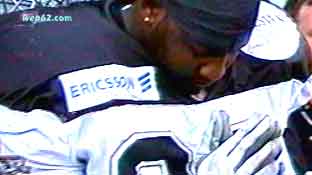 Defensive end Mike Sutton has been with the Tennessee Titans for 2 seasons before he joined the Berlin Thunder. In 1999 hw has played for the Rhein Fire and in 2002 for the Amsterdam Admirals.
Born in Jacksonville, NC on April 25 in 1975
College: Louisiana Coll
Height: 6-4
Weight: 272
LB Richard Hogans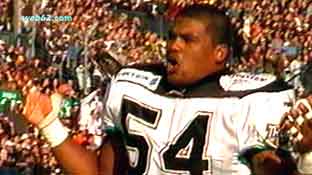 Linebacker Richard Hogans had not been able to land a job in the NFL after his stint in Berlin. Back in 1999 he was with the San Diego Chargers and in 1997 with the Chicago Bears
Born in Neuremburg, Germany on July 8 in 1975
College: LSU
Height: 6-2
Weight: 249
LB Lamont Green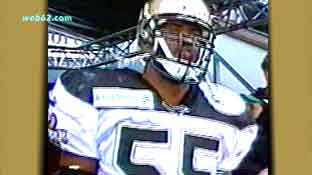 Lamont Green had been with the Carolina Panthers and with the Atlanta Falcons, where he was on 1 game in 1999.
Born in Miami, Florida on July 10 in 1976
College: Florida State
Height: 6-3
Weight: 230
OT Jon Blackman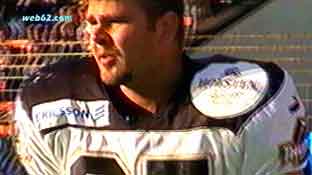 Offensive tackle Jon Blackman came from the Eagles after he had been with the Indianapolis Colts in 1998.
Born in Yorkville, IL on October 8 in 1975
College: Purdue
Height: 6-6
Weight: 271
S Billy Gustin
Safety Billy Gustin had 3 tackles and 1 assist at Rhein Fire 2000 and in 2001 he returned as a protected player to become a real top gun with 5 tackles and 3 assists.
Born on January 27 in 1976
College: Purdue
Height: 6-2
Weight: 210
RB Brian Shay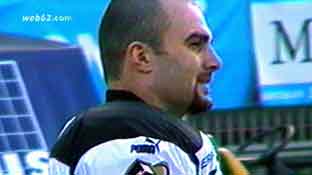 Running back Brian Shay had found work in the XFL at Orlando Rage after his season in the Thunder.
Born in Paola, Kansas on February 22, 1977
College: Emporia State University
Height: 5-8
Weight: 213
S Kevin Peoples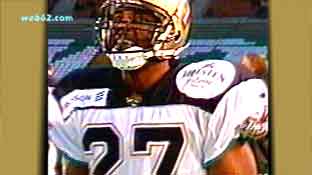 Safety Kevin Peoples had also played in the XFL for the Memphis Maniax after the Jaguars lost their interest in him.
Born on February 28 in 1974
Height: 6-2
Weight: 210
RB Vershan Jackson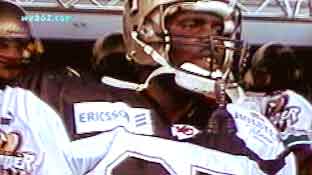 Running back Vershan Jackson did spend the 1999 NFL season with the Kansas City Chiefs before he came to Berlin Thunder.
Born in Omaha, NE on February 27in 1975
College: Nebraska
Height: 6-0
Weight: 236