Jacksonville Jaguars
The Jacksonville Jaguars are now becoming the International NFL team with 4 regular season games taking place at Wembley in London and with the superhot 49ers as their first challenge on October 27.
What a great vision by Jaguars' owner Shad Khan who might be smart enough to bring back the old NFL Europe feeling and perhaps get involved in the new Asian NFL around India, Pakistan and Sri Lanka.
Jaguars in the NFL Europe on photos and videos
Welcome to a small Jacksonville Jaguars program with videos, pictures, stories and player portraits from America`s famous Football team.
Jacksonville Jaguars 2009 - 2012
Jeremy Cain has been on the roster since 2009.
Jacksonville Jaguars 2006
Walter Curry had been with the Jaguars but he failed to impress.
Jacksonville Jaguars 2005
had been S Deke Cooper with LB Tony Gilbert from the Rhein Fire, QB Quinn Gray with DE Paul Spicer from the Galaxy and P Chris Hanson from the Dragons.
Jacksonville Jaguars 2004
Rhein Fire Safety and season MVP Deke Cooper, QB Quinn Gray and DE Paul Spicer from the Galaxy, Punter Chris Hanson from Barcelona and S Ray Perryman from Amsterdam had been the 2004 NFL Europe stars @ the Jaguars.
Jacksonville Jaguars 2002
Season 2002 had brought Joe Tuipala from the Barcelona Dragons, Damon Gibson from the Claymores, WR Jimi Redmond from the Galaxy, Derrick Chambers from Berlin Thunder and Daryl Terrel from the Saints.
Jacksonville Jaguars 2001
Season 2001 saw the Claymores Kory Blackwell and Damon Gibson, Jim Tarle from Galaxy and LB Joe Wesley from Berlin Thunder.
Jacksonville Jaguars 2001
From Berlin Thunder came Richard Hogans and also Joe Tuipala had been on board for his first season with the Jags.
From Frankfurt Galaxy came QB Ted White and from Berlin the World Bowl winning QB Jonathan Quinn, who might be a great player, but a real loser in front of a camera.
Jacksonville Jaguars 1997 - 1998
Jabbar Threats from the Scottish Claymore 2000 had been on 4 games of the Jaguars.
Videos from Jacksonville Jaguars players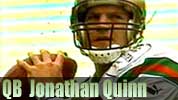 In 1998 QB Jonathan Quinn had signed at the Jaguars.
Jonathan Quinn photos and video interview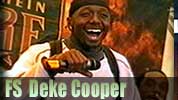 In 2005 Deke Cooper had been a hot property at the Jacksonville Jaguars with 52 tackles in 13 games.
Deke Cooper potos and video interview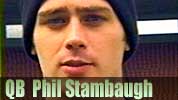 Another NFL Europe back up qb on board had been Phil Stambaugh from Rhein Fire, who gave an interesting video interview right before his very first experience as a starting NFL QB.
Phil Stambaugh photos and video interview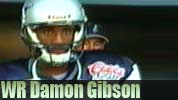 Scottish Claymores WR Damon Gibson had been with the Jaguars in 2001 and 2002 for 17 games.