Troy Aikman

QB Dallas Cowboys
In 1999 Troy Aikman had been thrilled by the atmosphere at Rhein Fire on his first media mission for Fox Sports.
Besides his analytical work he was also looking at the Cowboys hopefuls such as Robert Thomas, Brandon Noble and Jason Tucker, who had all become starters in Dallas later on.
But things had changed and instead of some more years with the Boys, Troy Aikman had stepped into a perhaps even more challenging part of his life at Fox.
As a quarterback he will always remain a legend with three Super Bowls in his pocket and now he can also write some new chapters in terms of quality coverage for Fox Sports.
... these videos were webcasted back in 1999 for 56k dial up modems when there were hardly any videos around.
Videos with Troy Aikman Dallas Cowboys
The way Troy Aikman looks at football is straight and down to earth in every aspect, what can be explored over 15 minutes on these four videos, in which he had also talked about Clint Stoerner.
Health, injuries, why step back, why no other team
Quarterbacks in Dallas, Thomas, Tucker and Noble, at Rhein Fire
Coaches, history, Super Bowls, salary cap
Media work, NFL / NFL Europe
They played with Troy Aikman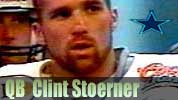 In Europe Troy Aikman had called Clint Stoerner "undersized for an NFL quarterback" and so ended his career in Dallas after only a few games.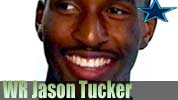 Wide receiver Jason Tucker has converted Troy Aikman's longest pass of all times.