Clint Stoerner

QB Dallas Cowboys
Clint Stoerner had been a fast mover with a rapid eye from Arkansas, who had introduced himself during season 2001 with his Scottish Claymores @ at Rhein Fire with 2 fumbles, 19 rushing yards and 17 out of 30 passes completed for 151 yards.
At the Dallas Cowboys he had been for three season from 2000 until 2002 during which he had been on 5 games in which he had throen for 367 yards, 4 TDs and 5 interceptions.
And after he had blown a 24–7 lead up at the Giants he got permanently benches and later replaced by rookie Tony Romo.
In 2002 he had again conquered the third string quarterback position in Dallas before he had moved on to the Miami Dolphins, where he could not make an impact.
In a press conference in 2001 Troy Aikman had sounded sceptical when he had classified Clint as being "a bit undersized for an NFL Quarterback".
Clint Stoerner videos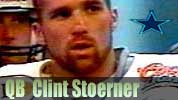 Clint Stoerner Interview
Video
Clint Storener @ Claymores vs. Fire
Video
NFL Europe Highlights
Video