Brian Baldinger
Dallas Cowboys
Former Dallas Cowboys top gun Brian Baldinger is surely on the way up with doing great analysis work for Fox Sports and at nfl.com, where he is guiding the fans excellently through the NFL game days.
Brian Baldinger had also been flown in for the World Bowl highlights where these photos and videos were made.
Brian Baldinger videos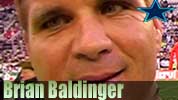 Brian Baldinger interview inside the World Bowl 2005
Video
Brian Baldinger interview @ World Bowl 2002
Video
Brian Baldinger Interview
Video
Brian Baldinger's comment on the Football World Cup 2002
... these videos were webcasted back in 1999 for 56k dial up modems when there had been hardly any videos available.
Even the mighty NFL and NFL Films had not been able to come up with better streams in those early days of Internet TV.