Barcelona Dragons

vs. Rhein Fire 2001
Season 2001 saw another strong Barcelona Dragons team with quarterback Jarious Jackson, Mike Green, Bryan Gilmore and Tony Simmons on offense.
In fact they had impressed with a record 8-2 season, which took them safely to the World Bowl in Amsterdam, where they lost by 24–17 against the Berlin Thunder under Peter Vaas.
Before both games against the Rhein Fire were won and in Duesseldorf they took it easy with just a 27–21 win in front of 30,984 NFL fans.
Barcelona Dragons videos
Barcelona Dragons vs. Rhein Fire 2001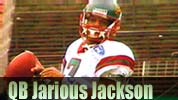 Quarterback Jarious Jackson has led the Barcelona Dragons into World Bowl 2001.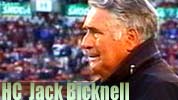 In season 2001 head coach Jack Bicknell had put a very strong offensive force together.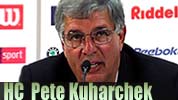 In season 2001 head coach Pete Kuharcheck had qb Gio Carmazzi from the 49ers on his team, but against the Dragons he had brought Phil Stambaugh from the Saints.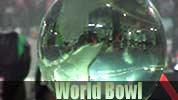 The 2001 World Bowl videos
Video 3 is featuring Guy McIntire and Commissioner Paul Tagliabue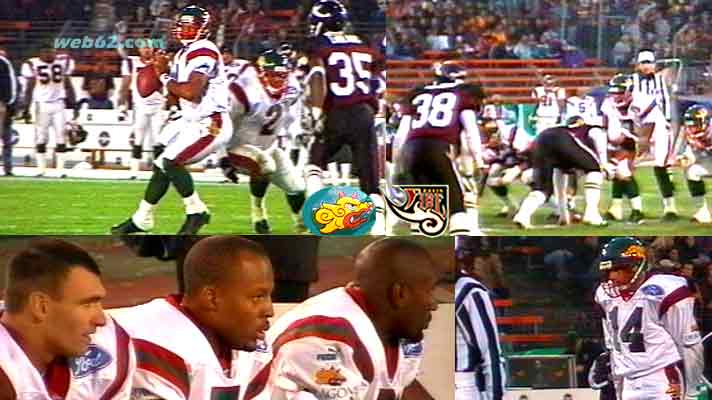 Barcelona Dragons vs. Rhein Fire 2001
There were only close games @ Rhein Fire and the last defeat at home in 1999 had been caused by a field goal from Galaxy Kicker Ralf Kleinmann.
This time German Kicker Manni Burgsmueller went unlucky and the ball bounced back from the metal, what had enabled the Dragons to get as close as 21:20.
National Kicker Jesus Angoy had managed to equalized to 21:21, what took his team into OT.
And then the fourth TD of Jarious Jackson had decided a fairly close game.

Barcelona Dragons vs. Rhein Fire
It wasn't a great day for "bulldozer" Jason Brookins from the Baltimore Ravens, who had broken his finger after he had scored 21 yards with 8 carries.
And this was something, that the Rhein Fire could not compensate at all. Not even with WR "crate man" Michael Lewis from the Saints, who had 1 reception for 5 yards and 1 Kickoff return for 48 yards.
At the same time national Marco Martos had shown some good returns alongside cb Anthony Malbrough, who had come from the Cleveland Browns and who later had a long career in the Canadian Football League.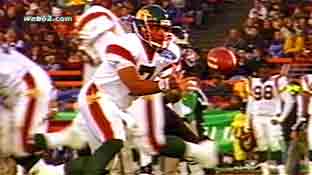 Denver Broncos quarterback Jarious Jackson had been a big show on his own. With 4 attempts he had scored 28 rushing yards besides his 21 out of 32 passes completed for 246 yards and 4 TDs.
Jarious Jackson photos and info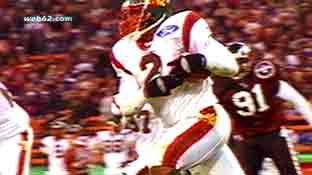 Titans running back Mike Green had been another well striking option for Dragons qb Jarious Jackson.
QB Roderick Robinson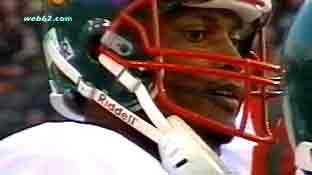 Roderick Robinson had completed 3 from 4 passes for 27 yards, but in the NFL he didn't make it at the Jaguars and the Colts.
Born on December 24, 1970 in Beaumont, Texas
Weight: 325
Height: 6-3
College: Tulane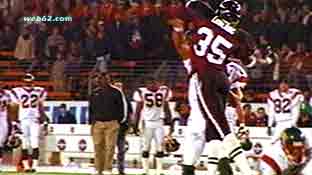 Giants' Clarence LeBlanc had been too slow, while in season 2000 a safety from the Cowboys with the name Chris Akins had turned the match against Galaxy with a fine block in the very last minute.
Clarence LeBlanc photos and video interview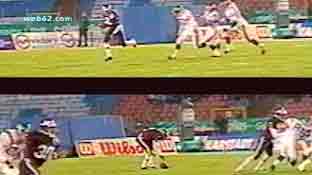 Giant's Punter Rodney Williams from the Giants reacted fast, when the ball had slipped out of his hands. And instead of getting nervous he did rush for 8 yards in front of 35.000 Fire fans, what has shown, that Rodney could play in front of a NYC crowd.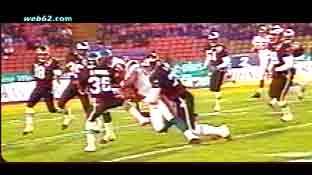 Jarious Jackson was a great qb. But here the German Blitz Bastian Lano was able to stop him. Before in season 2000 Sebastian Lano had produced the "action of the year" with his surprise sack against Claymores QB Marcus Crandell.