Nate Wayne

DT Green Bay Packers
The Denver Broncos had been the team of Nate Wayne during his rookie years in 98 and 99, where he had been on 16 games.
At the beginning of season 2000 Nate Wayne got traded to the Green Bay Packers, where he made it into the first team right away being on 44 games until season 2002 for 195 tackles and eight sacks.
By season 2003 Nate Wayne had moved to the Philadelphia Eagles for 25 games until 2004 before he had completed his NFL career with the Detroit Lions in 2005.
Eight interceptions, 140 yards, 16 sacks and 326 combined tackles have made Nate Wayne a very successful NFL player.
Nate Wayne video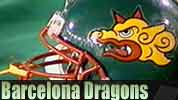 Nate Wayne at World Bowl 99 with a comment from Guy McIntyre
Video
Nate Wayne @ World Bowl 1999
Video 1
Video 2
Nate Wayne vs. Rhein Fire 1999
Video