Brian Finneran

WR Atlanta Falcons
Brian Finneran had been one of the outstanding players during season 1999 who had received great critics also from League President Oliver Luck.
Afterwards Brian Finneran was signed for 2 years by the Eagles, got released and went until 2010 to the Atlanta Falcons, where he started in 14 games already during season 2001 scoring 394 yards and 3 TDs as a great result.
In season 2004 he made it into the second round of the NFL Playoffs and season 2005 had brought Brian Finneran 2 touchdowns and 39 receptions for 487 yards in 13 games.
Fans of the Falcons are calling Brian Finneran Mr. First Down to honor his great contributions to the team.
Back at the Dragons he had been the slot man in three-wideout sets.
Brian Finneran video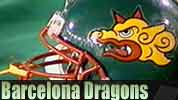 Brian Finneran at World Bowl 99 with a comment from Guy McIntyre
Video
Brian Finneran @ World Bowl 1999
Video 1
Video 2
Brian Finneran vs. Rhein Fire 1999
Video