Jack Bicknell

HC Barcelona Dragons
In 1999 Head Coach Jack Bicknell had mastered a difficult challenge with the integration of Superstar Lawrence Phillips, who even refused interviews. That showed the high level of coaching feeling, that "Cowboy Jack" had been able to throw in.
Later Rhein Fire Coach Mike Jones added, that some players need a more friendly environment such as created by Jack Bicknell and his wife to reach their best.
Jack Bicknell is the most experienced NFL Europe Head Coach and he also talked about his very special Lawrence Phillips experience at the Mighty Dragons 99.
In season 2001 he was voted Head Coach of the year.
RB Lawrence Phillips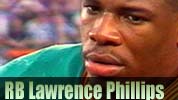 RB Lawrence Phillips has been a key player of the Barcelona Dragons in 1999.
Head coach Jack Bicknell
It wasn't easy to please Jack Bicknell on the field as he had always wanted things to be right.
Jack Bicknell videos
Interview 2001
Video
Interview 2002
Video
Jack Bicknell @ World Bowl 1999
Video 1
Video 2
Jack Bicknell vs. Rhein Fire 1999
Video
Jack Bicknell @ World Bowl 2001
Video 1
Video 2
Jack Bicknell vs. Rhein Fire 2000
Video
Jack Bicknell vs. Rhein Fire 2001
Video