Jarious Jackson

QB Denver Broncos
During the NFL season 2000 Jarious Jackson had played in 2 games for the Denver Broncos and for the Dragons he did very well at Rhein Fire 2001.
With 4 attempts Jarious Jackson had reached 28 rushing yards and he completed 21 out of 32 passes for 246 yards and 4 Touchdowns.
His energetic performance had been impressive and he was as good as he had been announced by the Managing Director of Football Operations, John Beake in his video interview.
Here are some videos from Jarious Jackson`s mega performance at Rhein Fire in week 3, which resulted in Player of the week honors and from the Word Bowl 2001.
Meanwhile Jarious Jackson is with the Toronto Argonauts.
And that was Jarious Jackson at World Bowl 2001.
Jarious Jackson videos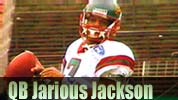 Jarious Jackson game scenes
Video 1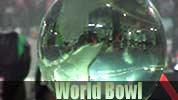 Jarious Jackson @ World Bowl 2001
Video 1
Video 2
Jarious Jackson @ Rhein Fire 2001
Video