Amsterdam Admirals

at Rhein Fire 2005
It was an intense competition between two fine running backs while the big difference between the two teams had been the quarterbacks, of which Kurt Kittner had emerged as the champion of the season.
The game was lost by the Admirals by 27–14, but it didn't matter at all as the team was already qualified for the World Bowl and preventing injuries had been the order of Bart Andrus for the last game of the regular season.
And that had resulted in over 35 minutes possession for the Rhein Fire team, which had not stepped on too much resistance.
And so with two victories at the end of the season the Rhein Fire had preserved at least a little bit of their credibility.
Amsterdam Admirals videos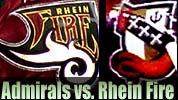 Watch The game video

Jarrett Payton vs. Joe Smith
Jarrett Payton and Joe Smith were both sent out by the Titans and none of them had been able to land a job in the NFL despite their truly well played NFL Europe season.
Against the Admirals Joe Smith had crossed the 1.000 yards barrier after only 10 games and only the great Lawrence Phillips had been able to do that for the Barcelona Dragons back in 1999.
Players and game scenes
The top receivers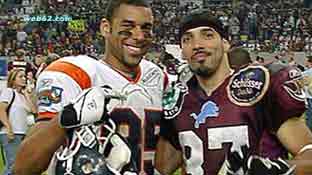 Admirals' Ruvell Martin and Rhein Fire'sGlenn Martinez gave us this picture from the best receivers of the night.
The head coaches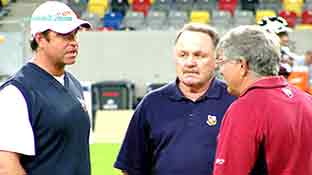 Season 2000 had brought a World Bowl win for Bart Andrus and Pete Kuharchek when they were coaching for double champion head coach Galen Hall.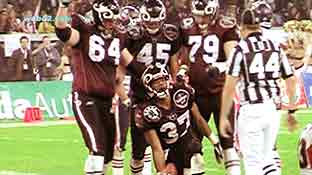 Touchdown by Joe Smith after a 5 yards run.
And with his 33 caries he had gained 123 yards in addition to 4 receptions for 22 yards.
Joe Smith photos and video interview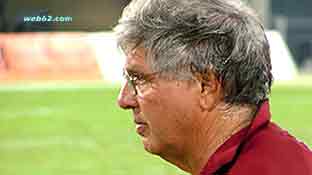 Rhein Fire head coach Pete Kuharchek had received some serious criticism during the season and unhappy fans had even created a poster saying, "thanks Pete, but please resign" and so he did.
Probably they didn't know, that quarterbacks like Dave Ragone, Kurt Kittner and Kevin Thompson make all the difference and that over the past seasons the Rhein Fire had not been the most blessed with their allocations.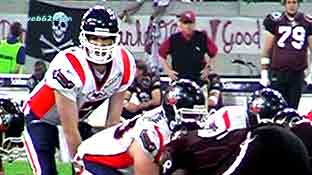 Admirals quarterback Kurt Kittner preparing for another touchdown pass to Ruvell Martin.
Kurt Kittner photos and video interview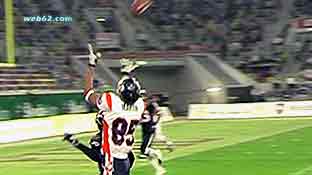 Amsterdam Admirals wide receiver Ruvell Martin had shown two nice touchdown catches during the game which he had completed with 7 receptions and a solid gain of 92 yards.
Ruvell Martin photos and videos
TD Scott McBrien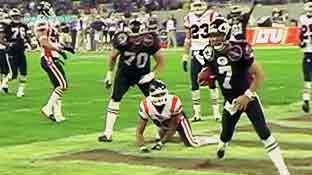 Also Rhein Fire QB Scott McBrien had scored a nice TD against the Amsterdam Admirals. During the game he had completed 14 from 24 passes for 176 yards and 1 TD while his 3 rushing attempts he had brought 17 yards this TD.
TD Jeris McIntyre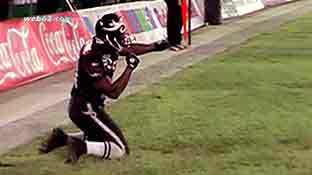 Another Rhein Fire TD was scored by WR Jeris McIntyre, who was allocated by the Kansas City Chiefs.
During the game he caught 7 passes for 98 yards.