Lawrence Phillips

Running back 49ers
Before his suspension at the 49ers some 61 yards were shown in week 2, 117 yards at the Cardinals in week 3, 20 yards in week 5 and some solid 151 yards at the Vikings.
But his performance as a running back had been weaker than expected and he was just used as a kick returner.
Later Rhein Fire wr coach Mike Jones had said on video, that some players need a real family atmosphere, like created by Jack Bicknell or at Fire to get them young players into a real playing mood.
Anthony Doghmi from Rhein Fire said: "He`s on an awesome season" and Dallas Cowboy Chris Brymer had remembered Lawrence Phillips as a great guy to play with.
Also former Dragons coach Peter Vaas had enjoyed to remember the perhaps best back, that has ever played in the NFL Europe.
Lawrence Phillips video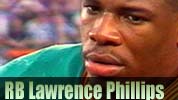 Lawrence Phillips at World Bowl 99 with a comment from Guy McIntyre
Video
Lawrence Phillips @ World Bowl 1999
Video 1
Video 2
Lawrence Phillips vs. Rhein Fire 1999
Video