Lawrence Phillips

Running back 49ers
Top German TV Analyst Lou Richter from SAT 1 TV had described him as "an animal" meaning this of course in the most respectful way.
Controversial discussions had been circulating around the great player, who had played for the Rams in 1997 before he went to the Dolphins for the 98 NFL season.
In round ten of the 1999 NFL Europe Draft he got selected by Jack Bicknell, who had later said, that even his wife had enjoyed seeing him.
"I think he's done everything he needs to show NFL teams that he's still a very good back. He's the most explosive back in this league. I'm sure that someone will take a chance on signing him.
That was the video comment of Rhein Fire head coach Galen Hall.
On the day before World Bowl 1999 Lawrence Phillips was shown with pride on the front page of the NFL website and some day there might be a Hollywood movie about this gifted talent who could have reached highest levels with ease.
But in 2002 former Denver Broncos GM and NFL Europe godfather John Beake had said on video that Lawrence Phillips is truly over and a few years later on October 3 in 2008 the former NFL player was was sentenced to 10 years in a California state prison for various violent offenses.
Lawrence Phillips video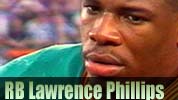 Lawrence Phillips at World Bowl 99 with a comment from Guy McIntyre
Video
Lawrence Phillips @ World Bowl 1999
Video 1
Video 2
Lawrence Phillips vs. Rhein Fire 1999
Video