Frankfurt Galaxy

at Rhein Fire and Admirals 2006
In 2006 the Galaxy was starting slow into the season while their old rival had looked very ambitious under the new head coach Jim Tomsula, who was about to get hired by the 49ers.
Big game action came from Ola Kimrin, a former Galaxy favorite, when he had missed a chance to increase the Fire advantage early in the second half when he was wide right with a 35-yard field goal attempt.
Kicker Kimball looked better when his 49-yard attempt just made it over the crossbar to reduce the Fire lead to 10-6 with 4:52 remaining in the third quarter.
Running backs Jacque Lewis and Frederick Jackson made big plays and Henson began to find his range to get the Fire on the move as the game moved into the final quarter. But their longest drive of the game stalled when Henson threw incomplete on a fourth-down play from the Frankfurt 18.
Galaxy quarterback Bryson Spinner, who was allocated by the San Francisco 49ers, had completed only one of his first 10 passes before hitting Adam Herzing over the middle for first downs on consecutive plays.
That led to another Kimball field goal attempt that went off target from 34 yards.
The Galaxy defense blocked a 50-yard attempt by Kimrin, but they lost their final chance to win the game when Robinsonís fumble was recovered by Siddeeq Shabazz, the third Frankfurt fumble of the night.
Frankfurt Galaxy videos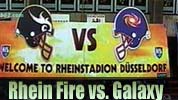 Another hard fought match at Fire
Game day video
At the Admirals
Game day video