Jake Delhomme

QB Carolina Panthers
Jake Delhomme had shown some tremendous action in the NFL against the Cowboys, when he had provided Jason Tucker, Robert Thomas, Brandon Noble & Co. with an unpleasant Christmas surprise in form of another loss during hard fought season 1999.
Later Jake Delhomme had demonstrated once again real leadership talents during the NFL Season 2003 / 2004 when he had thrown the Carolina Panthers into Super Bowl under head coach John Fox.
Here's a look back on photos from Jake Delhomme and his World Bowl 99 triumph with the Frankfurt Galaxy against the Barcelona Dragons, who had Lawrence Phillips, Brian Finneran, Brandon Noble, Mike Maslowski, Melvin Tuten, Todd Bouman and loads of other NFL Stars on their squad.
Even years after his Super Bowl Jake Delhomme had been praising his head coach John Fox, what shows, how loyal a quarterback can be.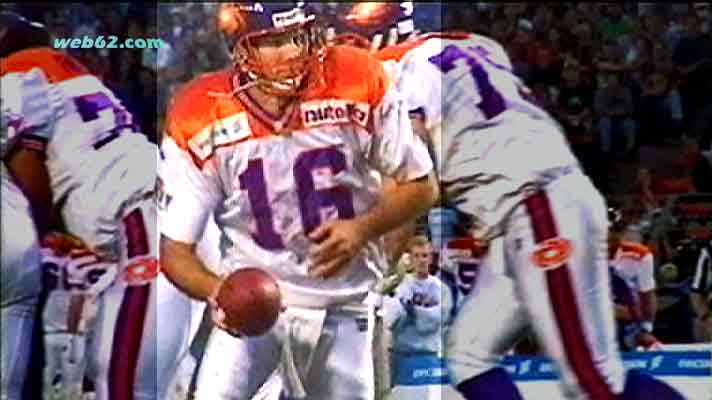 Jake Delhomme
Videos
Jake Delhomme on the field
Video
Jake Delhomme @ vs. Fire 1999
Video
Jake Delhomme @ World Bowl 1999
Video 1 | Video 2
QB Jake Delhomme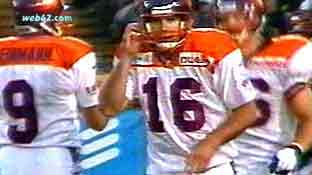 Winning World Bowl 1999 has been the biggest success for Jake Delhomme inside the NFL besides his Super Bowl berth with the Carolina Panthers and John Fox.
QB Jake Delhomme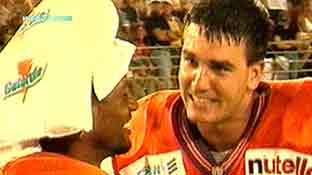 Born in Breaux Bridge, Louisiana on January 10 in 1975
College: Louisiana–Lafayette
Height: 6-2
Weight: 205