Frankfurt Galaxy

vs. Rhein Fire 2000
43.000 raving spectators had come to the Rhein Stadium to see another big clash with the Frankfurt Galaxy.
In fact, the Rhein Fire had reached their very peak in season 2000 when they had clinched their 3rd World Bowl appearance within 4 years after they had defeated the Galaxy at home by 34–27 and later at Waldstadium by an unmatched 53–14.
Coaches on videos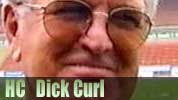 Before the match Frankfurt Galaxy head coach Dick "King" Curl had a great feeling after his two impressive 1999 victories against the Rhein Fire and the World Bowl win at Rhein Stadium.
Dick Curl pre-game interview 2000
Video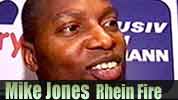 Rhein Fire receiver coach Mike Jones became a champion head coach at Frankfurt Galaxy a few years later.
Mike Jones post-game analysis
Video Interview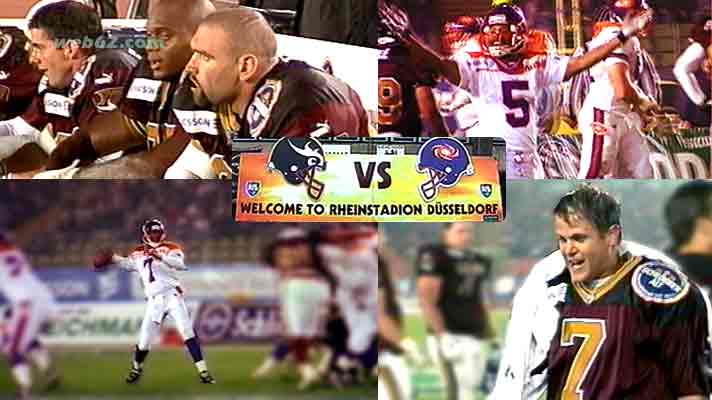 Galaxy vs. Rhein Fire 2000
Watch the original game video clip from the year 2000 when 56k modem lines were the bottleneck for Internet TV.
Video

Pat Barnes / Jeff Ogden
In the end the Galaxy quarterbacks Pat Barnes and Ted White had scored 360 yards in comparison to only 255 yards from the Fire quarterbacks Lytle and Wuerffel.
But it wasn't enough to turn the game once again after Jeff Ogden had converted a fine 30 yards pass from Danny Wuerffel into a TD, which brought the Fire as close to as 24:27.
The head coaches
Galaxy receivers