World Bowl 1999

Barcelona Dragons vs. Frankfurt Galaxy
Frankfurt Galaxy was able to defeat the mighty Barcelona Dragons with 38:24 in a hard fought battle.
The Dragons had a line of outstanding NFL players on the field that were led by quarterback Todd Bouman.
Scandalous running back Lawrence Phillips, Brian Finneran, Brandon Noble, Mike Maslowski, Nate Wayne and Melvin Tuten had been their strongest weapons.
Galaxy Head Coach "King Curl" had brought his "double-headed QB monster" Pat Barnes and Jake Delhomme, who were feeding their top receivers Mario Baily and Andy McCullough so very well.
World Bowl 1999 videos
NFL World Bowl Highlights and interviews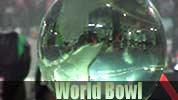 Dragons vs. Galaxy
Game video 1 | Game video 2
Pre-game interview with:
Dick Curl | Oliver Luck | T.Smith
The World Bowl Dance
Video


Welcome to World Bowl 1999
Once again the Frankfurt Galaxy had won the World Bowl in an exciting clash with the extremely strong Barcelona Dragons.


World Bowl dance
Absolutely brilliant had been the Galaxy Rap inside the World Bowl Dance video when even NFL Europe President Oliver Luck had a ball on stage alongside World Bowl MVP MC Andy McCullough.
World Bowl 1999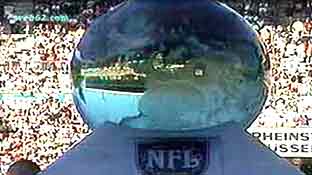 The very first World Bowl party at Rheinstadium Duesseldorf was a world class event.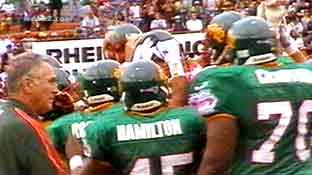 Earlier Barcelona Dragons head coach Jack Bicknell had felt very comfortable in front of 39.643 fans, who were mainly supporting his team against their arch rival from Frankfurt.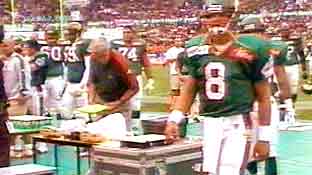 Todd Bouman had completed 16 out of 31 passes for 161 yards and 1 TD and he had been 1 intercepted only once.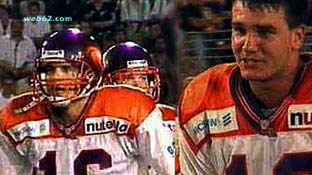 Jake Delhomme had even become a Super Bowl starter for the Carolina Panthers and during World Bowl 99 he could complete 9 from 14 passes for 126 yards and 1 TD without a single interception.