World Bowl 1999

Barcelona Dragons vs. Frankfurt Galaxy
Frankfurt Galaxy was able to defeat the mighty Barcelona Dragons with 38:24 in a hard fought battle.
The Dragons had a line of outstanding NFL players on the field that were led by quarterback Todd Bouman.
Scandalous running back Lawrence Phillips, Brian Finneran, Brandon Noble, Mike Maslowski, Nate Wayne and Melvin Tuten had been their strongest weapons.
Galaxy Head Coach "King Curl" had brought his "double-headed QB monster" Pat Barnes and Jake Delhomme, who were feeding their top receivers Mario Baily and Andy McCullough so very well.
World Bowl 1999 videos
NFL World Bowl Highlights and interviews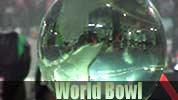 Dragons vs. Galaxy
Game video 1 | Game video 2
Pre-game interview with:
Dick Curl | Oliver Luck | T.Smith
The World Bowl Dance
Video