John Beake

NFL VP of football operations
The long time general manager of the Denver Broncos stands for the finest chapter, that the team has so far had after controversial John Elway was signed to win two Super Bowls.
On his way John Elway had blown it three times together with the also fairly young head coach Dan Reeves, who both had proven the incredible management talents of John Beake.
Later in his tremendous football career John Beake had been overlooking the NFL Europe as the NFL vice president of football development and as the managing director before he had moved on to the ELITE Football Services.
Back at Rhein Fire he had been inspecting one of the roaring flagships of the League, which had impressed with some raving 50.000 fans at times, who were rocking the arena at World Bowl 1999.
During the press conference John Beake had said, that a lot of things remind of New York and that no one had expected Rhein Fire to have grown to that size so very fast.
Over a few years John Beake had looked after the Barcelona Dragons, where many players from the Denver Broncos had been tested.
In 2005 John Beake had been very much enthusiastic about the Commissioners plans for China.
John Beake video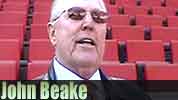 Interview 2005
Watch the video